In addition to money, the Salvation Army accepts donations of vehicles, furniture, appliances, clothing and countless other household items. Some items aren't acceptable due to safety problems or legal restrictions, but the organization takes most household goods in usable condition.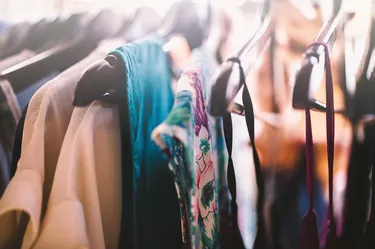 Clothing and Smaller Items
The Salvation Army accepts all clothing for men, women, infants and children. It also accepts recordings, compact discs, jewelry, shoes, purses and accessories. You can donate books, but not magazines or encyclopedias. Collectibles, jewelry, small antiques and linens such as sheets, blankets, pillowcases and towels are welcome. The organization accepts other household items, such as dishes and pans, but they must be clean and free of damage.
Small Electrical Items and Electronics
You can donate small electronic items such as lamps, radios or television sets if they're working. However, the Salvation Army doesn't accept TVs more than five years old. Cell phones, laptops, computers and other electronic devices are accepted, but delete all your personal information first. The organization cannot accept cathode-ray computer monitors because they contain toxic material.
Appliances and Furniture
Large appliances are welcome, including washers, refrigerators, stoves and air conditioners, but they must be free of rust and in good working condition, including a power cord. The Salvation Army doesn't accept any gas appliances.
Wood furniture will be accepted if it's in good structural condition without serious cosmetic flaws, but you can't donate ready-to-assemble pressed-wood furniture. You can donate leather or fabric upholstered furniture that's clean and in good condition, without stains or tears. The organization accepts box springs and mattresses, but they must be free of tears or stains and structurally sound.
Other Large Items
You can donate counters and shelves for store displays, gardening equipment, farm equipment and tools. The organization accepts some large exercise equipment, including treadmills and bicycles, but these items must be in good condition. The Salvation Army recommends calling first to check on the acceptability of other exercise equipment, especially ski machines.
Cars, recreational vehicles, trucks and boats generally are welcome whether they are in running condition or not. Due to local requirements, however, the Salvation Army may not accept every type of vehicle at your location. You can check by calling 1-800-728-7825.
Items You Can't Donate
Many other items not specifically on the donation lists are acceptable, providing they are safe and legal. However, Salvation Army stores don't accept built-in appliances or kerosene appliances. They also refuse large console stereos and television sets and automobile parts, including wheels or tires.
You can't donate potentially dangerous or polluting items, such as chemicals or paint. In addition, the Salvation Army doesn't accept any items that have been recalled — for example, baby furniture and toys with small parts that present a choking danger.
How to Donate
You can donate goods at a store near your home during open hours. Some locations have a drop box for after-hours donations. To find a location near you, enter your zip code on the donate page of the Salvation Army website or call the Salvation Army at 1-800-728-7825 to schedule a donation pick-up. You can also schedule a pickup online, including for automobiles in some areas. Enter your zip code in the appropriate box on the donate goods page.