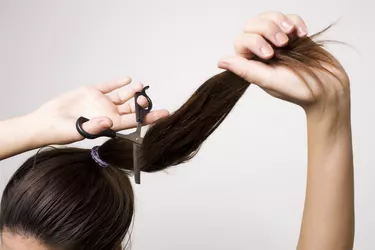 If you donate your hair to a tax-exempt organization that helps people who have lost their hair as a result of a medical condition, such as Locks of Love, the hair itself isn't tax deductible. However, you may be able to claim a charitable contribution deduction for some of your related out-of-pocket expenses.
Deduction for Hair Donations
Just like blood, organ and other body-part donations, the Internal Revenue Service has a long-standing policy of denying deductions for the value of the hair you donate. But if you incur other costs to make the donation, such as traveling expenses, packaging costs or even the price you pay to a barber or salon to cut the hair off your head -- but not for styling what's left of it after -- you might be able to include them in your charitable contribution deduction.
Itemizing Charitable Contributions
In order to deduct any type of charitable donation, including the expenses of donating hair, you'll have to itemize your expenses on Schedule A instead of claiming the standard deduction. Therefore, if you don't usually itemize because the standard deduction saves you more money in tax, your hair donation won't impact your tax bill at all.