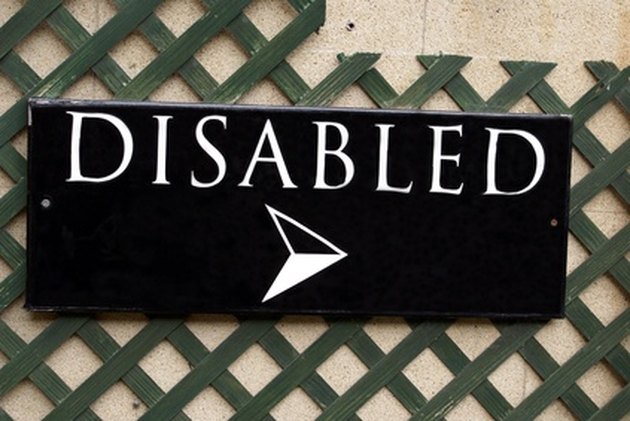 Disabled individuals face a variety of challenges at home and in the community. A disabled person may experience trouble communicating with others, reading or writing. Grants can be used to help purchase adaptive equipment such as computers and speech-recognition software. Various organizations throughout the country award grants to help improve the quality of living for disabled individuals.
Computer Grant Program
The Multiple Sclerosis Foundation's Computer Grant Program provides new or refurbished computers to individuals with multiple sclerosis (MS). The grant is available to people on a fixed or limited income. The computers are designed to enhance the quality of life for those with MS. The grant covers the cost of the computer, monitor and keyboard. The grant also covers additional adaptive equipment that may be necessary to operate the computer. Applicants must submit an application, verification of a MS diagnosis and an essay to qualify for a grant. An application may be obtained online or by contacting the foundation by phone.
Multiple Sclerosis Foundation 6350 N. Andrews Ave. Fort Lauderdale, FL 33309-2130 800-225-6495 msfocus.org
Sight for Students
Vision Service Plan (VSP) sponsors the Sight for Students program that provides eye examinations and glasses to low-income families. The grant program enables children who are uninsured to get the eye care they need. More than 50,000 children are helped through the program each year. The program is available nationwide to qualified applicants. Gift certificates are issued by participating partners to be used at a local eye clinic. In most cities, the gift certificates are issued by local schools.
Sight for Students VSP P.O. Box 997105 Sacramento, CA 95899-7105 888-290-4964 sightforstudents.org
Recording for the Blind & Dyslexic National Achievement Awards
Recording for the Blind and Dyslexic (RFB&D) offers two grants in the form of scholarships for students with learning disabilities. The Mary P. Oenslager Scholastic Achievement Awards provides awards for students who are blind or visually impaired who are receiving a bachelor's, master's or doctoral degree. Nine students are selected for the award, which recognizes outstanding leadership and academic excellence. The Learning Through Listening Award is available to high school students with learning disabilities such as dyslexia. The foundation awards six scholarships to students, including three top winners who receive $3,000. Applicants for the program must exhibit a strong commitment to helping others.
Recording for the Blind & Dyslexic 20 Roszel Road Princeton, NJ 08540 800-221-4792 rfbd.org