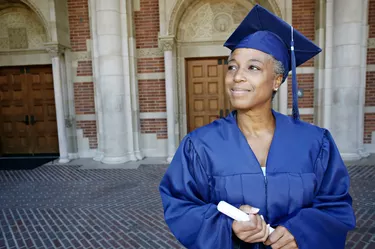 Women over 50 who wish to pursue a master's degree are eligible for scholarship assistance through a number of sources that support higher education for mature students. Disciplines that offer financial assistance for older students include accountancy, engineering and the retail trade, among others. The sponsors of these scholarships range from professional associations, societies, universities and foundations.
Association of Non-Traditional Students in Higher Education
The Association of Non-Traditional Students in Higher Education (ANTSHE) consists of students, academic professionals, institutions and organizations working together to promote and support education and advocacy for the adult learner.
ANTSHE offers the Marius "Gabe" DeGabriele Scholarship for graduate students. For this master's degree scholarship, candidates must have a minimum 3.5 GPA and submit transcripts, letters of recommendation and a personal statement that relates financial need. The graduate school scholarship for women is valued at $500.
American Association of University Women
The American Association of University Women (AAUW) offers women with a bachelor's degree the opportunity to pursue graduate studies through Career Development Grants. These grants enable recipients to obtain a master's degree with which to advance or change careers or reenter the workforce. Applicants must apply these awards to studies at accredited colleges, universities or technical schools in the United States.
AAUW gives special consideration for these awards to women of color and women taking on their first advanced degree or credentials in nontraditional fields. As of 2022, the grant carried a value between ​$2,000 and $12,000​.
Wind Foundation Scholarships
The scholarships enable them to pursue non-traditional roles and occupations, and benefit from interaction with successful women in their industries.
Society of Women Engineers
SWE recognizes programs based on ABET accreditation for universities in the United States. There are a number of scholarships available through the SWE, many of which range from ​$1,200 to $8,000​.
American Society of Women Accountants
The American Society of Women Accountants (ASWA) provides scholarships for a master's degree in accounting to part- or full-time students.
Applicants must have a minimum of 60 completed semester hours or 90 completed quarter hours and a declared major in accounting at an accredited college, university or professional school of accounting. Membership of ASWA is not a requirement for scholarship consideration.
Women who are 50 or older and returning adult students are eligible for the Alma Baron Second Chance for Women award at the University of Wisconsin. The award is for applicants who are a minimum of 45 years of age and new or continuing students in good academic standing.
The award is for U.S. citizens or permanent residents in financial need and likely to achieve academic success based on academic results of the past five years.
Talbots Scholarship Foundation
The Talbots Scholarship Foundation offers awards for women in their late 20s to 60s with a view to giving them the means to fulfill their goals of higher education later in life.
The value of each of the 10 scholarships awarded by the foundation was ​$15,000​, and ​$30,000​ for the Nancy Talbot Scholarship award honoring the company's founder and earmarked for an exceptional candidate.