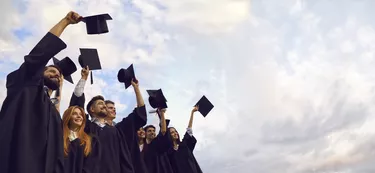 An endowed scholarship is a major gift to a college or university used to fund scholarships. It often honors a donor's loved one or the donor himself. The feature that most distinguishes endowed scholarships from other types of donations is that the capital in the endowed scholarship gift is preserved so that the gift can last indefinitely. The college will use only the interest accrued on these gifts to fund the scholarships. This is the meaning of endowed in this context.
Permanent Gift Scholarship Meaning
When an endowed scholarship is given to a school, the donated money is invested. The school never withdraws any of the principal. Only the interest earned from that donation is used to fund scholarships. That makes an endowed scholarship a permanent gift.
Whereas a one-time gift may be spent just once, an endowed scholarship keeps on generating income indefinitely.
Restricted Versus Unrestricted
A scholarship donor should specify whether the gift is restricted or unrestricted. While schools like to receive unrestricted gifts, which they can use wherever the need is greatest, many donors prefer to specify how their donation will be used.
Some of the criteria that donors can require of scholarship recipients are that recipients study in a particular field, be in a certain major, have a specified minimum grade-point average and/or have financial need.
Many donors name their endowed scholarships in memory of a loved one or in their own name. Because endowed scholarships are permanent, a named endowed scholarship is a way for donors to have their name, or their loved one's name, tied to a productive cause and an institution that was important to them.
Schools will usually have a minimum amount that they require to set up an endowed scholarship. That amount will vary from school to school, so you should get in touch with the school's alumni association, development office or major gifts office for more information.
You can fund the endowment in many ways: you can give an immediate gift of cash or stock; you can make a pledge and pay the donation over several years; you can leave a bequest in your will, or set up an annuity or a trust. Gifts can be structured so that you draw income for life. Development office staff can advise you on the best options for your particular situation.
Examples of Endowed Scholarships
Most colleges and universities have their own lists of endowed scholarships that are available at their institutions. For instance, Tiffin University offers the Aaron Ciark Memorial Scholarship, which is available to a native of Michigan who is a football player. As of 2022, the amount is not disclosed. Other endowed scholarships at Tiffin University include the Arnold Adoption Scholarship, the Dopeker Scholarship, the James Todd Memorial Scholarship and many others.
St. John's University offers a similar list. They have the Alice C. Burke '75C, '77G Campus Ministry Endowed Scholarship, which is available to an undergraduate involved with Campus Ministry activities and with a minimum GPA of 3.0. The scholarship is worth ​$2,000​. Others on the list include the Bernard Newman Memorial Scholarship, Dorothea Hayes Davatzes Scholarship, Indian Society Alumni Scholarship, Maureen A. Hartigan Scholarship Fund and many others.
The endowed scholarship you qualify for will be highly dependent on which college or university you attend, your grades, where you are from and the extracurricular activities you participate in. As such, it's important to check with your institution for a comprehensive list of endowed scholarships.