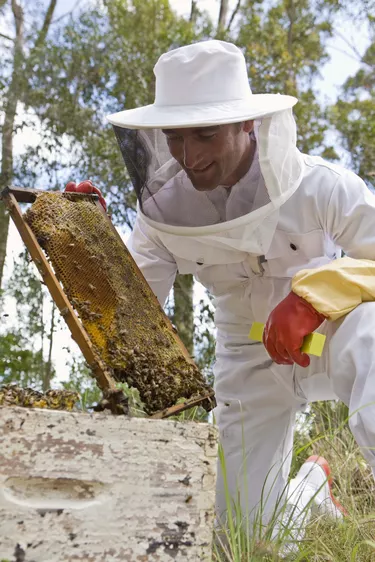 Beginning beekeepers have a useful resource in the American Beekeeping Federation (ABF) website. ABF provides a selection of PDF files with information about every aspect of beekeeping. Armed with all the basic information, beginning beekeepers should look into grants. Many states offer grants for beginners in beekeeping in the hopes of reversing the downward trend in the bee population.
Vermont Specialty Crop Grants
The Vermont Department of Agriculture, Food and Markets offers U.S. Department of Agriculture (USDA) Specialty Crop Grants, in part to combat the decline in the numbers of wild honey bees. Maintaining the population of bees in turn assists farmers and fruit and vegetable growers with pollination. Administered by the Vermont Beekeepers Association, these grants enable beginning beekeepers to set up one or two colonies of honey bees. The grants are available on a first-come-first served basis to qualified applicants who must show proof of purchase of equipment and bees. Grant reimburse a maximum sum of $200 for one colony and $400 for two colonies. As of 2009, the total value of these grants was $8,000.
Ohio 4-H Beekeeping Start-Up Grant Program
The Ohio Department of Agriculture 4-H Beekeeping Start-Up Grant Program aims to increase the number of beekeepers in the state and to encourage interest in beekeeping and greater understanding of the importance of pollination. Among the challenges faced by honey bees are mite parasites, viruses, bacteria, poor nutrition and pesticides. The value of the grant is undisclosed.
Southwest Virginia Grant Funding
Beginning and established beekeepers living in tobacco-dependent counties of southwest Virginia are eligible for grant funding. Beginning beekeepers receive cost share funding of 25 percent. Approved applications are eligible for reimbursement upon presentation of paid receipts bearing a post-approval date for purchased products. Eligible products include woodenware, medications, protective clothing and beekeeping equipment. As of 2010, the maximum grant value for beginning beekeepers was $550.
Illinois Grants
Low-income communities in Chicago, Ill. can receive funding for projects likely to improve their social and economic outlook. The programs that derive financial support through the John D. and Catherine T. MacArthur Foundation include beekeeping and training for beekeepers. The Foundation awards year-round grants of different amounts, up to $500,000 for the genius grant. As of 2011, the Foundation budget for these grants was about $14.1 million.
Young Beekeeper Program
The Foundation for the Preservation of Honey Bees encourages state associations of beekeepers to start a Young Beekeeper Program. The rationale is to interest young people in beekeeping, initially as a hobby and perhaps as a career in honey bee research in the future. As of 2010, the Foundation offered matching grant funding of up to $200 to a limited number of applicants to assist with the start-up costs. Visit the website for details.