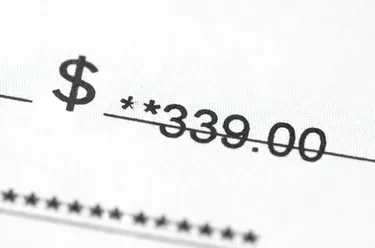 Automatic Data Processing (ADP) provides business and computer outsourcing to hundreds of thousands of clients. It offers a one-stop shop for payroll, human resources, benefits administration and tax preparation. If your employer uses ADP payroll systems, you can be paid by direct deposit, an ADP ATM card or an ADP payroll check. An ADP check can be cashed at various financial institutions as long as you have valid forms of identification.
Step 1
Take the ADP check to your bank. Different banks have different check cashing rules. For example, your bank may need to verify that the check is legitimate by calling your company's bank to ensure there are funds present to cover the check. This is especially true if it is the first time you are cashing an ADP check there. However, you have a better chance of cashing the check if you are a longtime customer and already have money in an account. You will need to sign the back of the check to endorse it and show two forms of identification to the teller.
Step 2
Go to the bank that the ADP check is drawn on. The bank name is printed on the check on the top-left or right corner. Call the bank's customer service number to get the closest location. Take at least two forms of identification to present to the teller, such as your driver's license, military ID and passport. The bank will verify your identity and whether the funds are available from the account to pay the check. Once the information is verified, you will need to endorse the check to cash it immediately. Some banks may also require you to submit your fingerprint as an added security measure when cashing checks.
Step 3
Take the ADP check to a check cashing company. If you do not have a bank account or the bank the check is drawn on does not have a location close to you, this is an option. The check cashing company will require at least two forms of ID and will call your employer to verify the validity of the check. Check cashing companies will charge a fee to cash your ADP check based on the check amount.
Step 4
Cash the check at your local grocery store. Some larger grocery stores will cash a payroll check from a well-known bank or a company like ADP. Depending on the check cashing policy of the grocery store, it may only cash checks under a certain amount, such as $500. You will need at least two forms of ID, and the grocery store may call the issuing bank to verify the funds' availability.