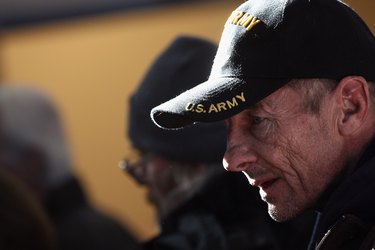 Debt does not discriminate and military veterans often fall into debt because of health issues that occur during or after their military service. These issues often prevent them from earning a paycheck and can incur large medical bills. Unemployment and underemployment are additional causes of debt for many veterans. As of the date of publication, nearly 690,000 veterans were unemployed, according to debt.org.
VA Debt Management Center
The U.S. Department of Veteran Affairs provides a wide array of services to veterans and their families, including mortgage loans, educational loans and health care programs. If a soldier who utilizes a VA program ends up owing the VA money, the VA provides several ways to pay the debt back or even have repayment waived. The waiver program requires the veteran or the veteran's immediate family or beneficiary to submit a letter explaining the reasoning for needing the debt forgiven. The VA also allows veterans to apply for compromise offers, through which the VA agrees to accept less than what is owed. Monthly payment plans allow the veteran to pay the debt down on a monthly basis.
Veterans' Student Loan Debt Relief Fund
Sponsored by Scholarship America, the Kisco Foundation and Iraq and Afghanistan Veterans of America, the Veteran's Student Loan Debt Relief Fund gives money to soldiers from every branch to pay back student loans. The program specifically helps those soldiers who feel they have been victims of GI Bill fraud or have not received the full financial aid benefits promised from their schools. To be eligible, an applicant must have served at least 60 days since Sept. 11, 2001, and have applied for all other eligible help and aid available. A spouse or child using a soldier's GI Bill benefits is also qualified to apply. Award recipients receive up to $5,000 to pay off outstanding student loan debt. The relief fund application deadline has been extended a few times. As of the date of publication, applications were due by Jan. 15, 2015.
Leave No Veteran Behind
With its Retroactive Scholarship Program, the non-profit organization Leave No Veteran Behind gives veterans a chance to eliminate student loan debt. The Retroactive Scholarship Program pays off the entire student loans of several veterans each year. Veterans must have graduated from a post-secondary degree program and must show proof of financial hardship. In return for the money, the veteran agrees to complete 100 to 400 hours of community service.
Other Fee-Based Programs
A non-profit credit counselor, InCharge helps people from all backgrounds pay down their debt and offers special programs specifically tailored to military personnel, including veterans. InCharge's Military Money website includes free information on mortgages, military pay and benefits, saving for retirement and college, investing, and taxes. The organization also offers a debt management program, where InCharge helps a client reduce monthly interest rates by negotiating with each creditor. America's Debt Help Organization is another consolidation service that serves the same function by providing free educational resources along with a fee-based debt consolidation program.