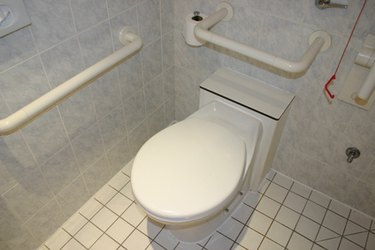 Disabled people can be challenged in finding a dwelling that is accessible to them. A home suitable for a person with disabilities may need to be modified in order to be safe and disability-friendly. Ramps may need to be built. Counters may need to be lowered. The type of alterations mainly depend on the type of disability. A variety of state and federal programs offer funding for a project of this nature.
State Agencies and Resources
Some states have programs to help make homes more accessible to people with disabilities. Illinois, for example, has a long list of funding sources for this purpose, and in 2010, allocated $2 million in grant money for these purposes. Similar programs can be found in Texas, such as "The NeighborWorks Network" (a national organization that has projects based in that state). The federal Department of Housing and Urban Development (HUD) may also be able to direct you to suitable grants and information within your state.
The NeighborWorks Network 1325 G St. NW Suite 800 Washington DC 20005-3100 202-220-2300 nw.org
U.S., Department of Housing and Urban Development 451 7th Street SW Washington DC20410 202-708-1112 hud.gov
Disabled Veterans
Disabled veterans can take advantage of a special grant for making their homes more accessible. Fifty percent of the cost of home modification is available, up to $50,000. The program has specific guidelines on what kind of disabilities make the veteran eligible. Veterans should apply through their regional VA office, beginning with the completion of VA Form 26-4555.
Veterans Association U.S. Department of Veterans Affairs 810 Vermont Avenue, NW Washington, DC 20420 1-800-827-1000 va.gov
Supportive Housing for Persons with Disabilities
The federal Department of Housing and Urban Development (HUD) grants funds to some nonprofit organizations with 501(c)(3) status. Disabled Americans with very low incomes can be eligible for grants to remodel their homes if they can be sponsored by such nonprofits. Your local public housing agency or bank's financial officer should be able to put you into contact with appropriate funding organizations. Many state listings are available on the HUD.org website. Financial details must be provided in conjunction with the application by the nonprofit organization on your behalf. Mental disabities are included in this category of grant. Applicants must be able to provide 0.5% of the funds being granted.