It's not always convenient to mail a check for rent, a loan payment or services rendered, especially if the balance you owe is due in the next few days. Online payments are much quicker and sometimes post instantly. When opting to make a payment online, you'll need to provide your account number and your financial institution's routing number to complete the transaction.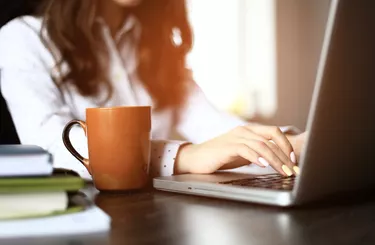 Routing and Account Numbers
A routing number is a nine-digit code assigned to a U.S. financial institution by the American Bankers Association to identify that institution in the Automatic Clearing House, or ACH, network for electronic money transactions and domestic wire transfers. An account number is the number assigned by a financial institution to identify a specific account. When you send money electronically, the routing number identifies who will receive the funds, and the account number identifies what account the funds will come from.
Many financial institutions, lenders and businesses publish their routing numbers on their websites to make electronic bill payment easier. If not, you'll have to call and ask for the correct number.
Means of Transfer
How you send money electronically often depends on how the receiver wants to receive the funds. Wire transfers between financial institutions, for example, require a signature and must be initiated in person. Many creditors allow payments over their websites unless a payment is past due, in which case they require the funds to be transferred a different way — either through your bank or through an independent online servicer or a servicer who requires a signature.
For example, Walmart Money Centers located in Walmarts across the country and payday lender Advance America <ahref="https: www.advanceamerica.net="" services="" details="" moneygram-services"="" target="_blank"> </ahref="https:>use the servicer MoneyGram to transfer funds electronically. MoneyGram is an independent servicer that facilitates electronic funds transfers in person or from your online MoneyGram account. Transfers are made from a credit or debit card or from the sender's checking account. Either way, you must give the account number you want the funds taken from and the routing number of the person or business you want the funds transferred to.
Required Disclosures
If you have an account with a financial institution that allows you to electronically transfer funds from your account, the Federal Trade Commission requires the institution provide you with a written statement of your rights. This information includes an explanation of your liability and what you should do in the case of unauthorized transfers. It must also list the types of transfers you can make from your account and any associated fees, as well as how to stop payment on an electronic transfer and the institution's liability for failing to execute the stop payment. How to report errors on your receipts or statements, why and when the institution may share your information with any third party and a statement of foreign ATM fees must also be recorded in the statement of rights.