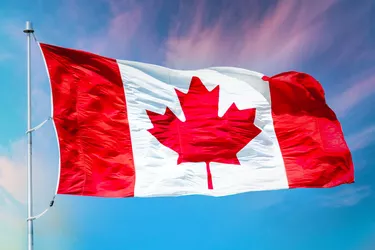 It's not impossible to cash or deposit a Canadian check in a U.S. bank account, but the process doesn't come without its share of catches and requirements. Depositing a foreign check is typically easier than cashing one, which can sometimes prove impossible. Digital Check Corporation indicates that Canada implemented a new clearing system in 2014 to facilitate the process, and it's helped things along with this particular country.
Where Can I Deposit a Check From Canada?
Not all banks accept foreign checks for deposit, and those that do often accept them from one country but not another. And you can probably forget about making the deposit at an ATM. Your best bet is to call ahead to your bank to learn what its requirements and rules are, and if it accepts foreign checks at all.
How Do I Deposit a Canadian Check in the U.S.?
Assuming your financial institution does accept foreign checks for deposit, the process can be very similar to depositing a U.S. check:
Turn the check over.
Write "for deposit only" on the back.
Sign or endorse your name below that.
Some banks, including U.S. Bank, require that you show up at a branch in person to deposit a Canadian or foreign check and that you provide a government-issued ID.
Can I Deposit a Canadian Check via a Mobile App?
Making a mobile deposit of a check drawn on a foreign bank can also depend on your bank's particular rules and policies. U.S. Bank accepts Canadian and foreign checks for deposit, but it draws the line at mobile deposits. You can't use your mobile app if this is your bank. Bank of America also only accepts U.S. checks for mobile deposit.
Hold Times: How Long Will it Take for the Funds to Transfer?
Your bank will almost certainly put a "hold" on the deposited funds, effectively freezing the money until the check is honored by the Canadian bank. The money debited from the Canadian account must be transferred to the U.S. bank where you've deposited the check. This was accomplished manually through 2018 when Canada perfected its clearing system, according to Digital Check Corporation, but it's mostly accomplished electronically in 2022.
Again, it can depend on your bank here in the U.S. Pacific Coast Bankers' Bank says that it's set up to process Canadian checks with its digital imaging service. This can cut the transfer of funds down to same-day processing, although the depositor is required to scan copies of the check, both front and back. Traditional processing can take four to seven business days, according to PCBB.
Are There Processing Fees for International Checks?
These processes incur costs for U.S. banks, and they tend to pass those costs on to consumers by imposing processing fees. These fees can vary from bank to bank.
At the very least, you'll probably end up paying the Canadian/United States exchange rate for the amount of currency you deposit. American banks don't want Canadian dollars, so the money from the Canadian bank must be exchanged or converted to U.S. funds. The Canadian/U.S. exchange rate can shift a little from day to day and week to week. The currency exchange rate between these two countries was 0.7280 in the last week of September of 2022, down a little from the week before, according to the Federal Reserve.
Banks and credit unions aren't legally obligated to settle for this rate, however. They can opt to use any figure they like, padding it a little. Wells Fargo Bank says that the rate it uses is "set at our sole discretion, and it includes a markup" that's intended to compensate the bank for the costs involved. SoFi indicates that this can be in addition to other fees imposed.
Can a Check From Any Foreign Country Be Deposited in the U.S.?
A check's country of origin can determine whether it's accepted for deposit. Foreign currency and checks that are paid in Canadian dollars, Mexican pesos and euros tend to be more easily accepted by U.S. banks, according to SoFi.
Are There Any Canadian Banks in the U.S.?
TD Bank is perhaps the most well-known Canadian bank that operates branches in the U.S. but there are others, particularly those located in northern states and near the border between the countries.