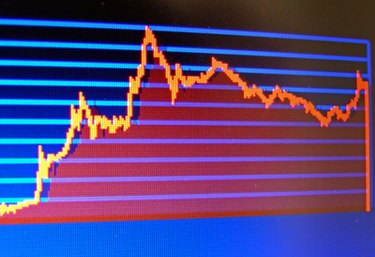 The Dow Jones Industrial Average, often just called the Dow, is an average of the share prices of 30 large corporations that trade publicly in the stock market. It is the oldest stock market index in the world and one of the most prominent indicators of American economic health. Financial news media, investors and the general public often refer to the Dow. Its frequent updates are closely monitored, even on a minute-by-minute basis throughout the day for some investors. If you wish to stay informed of the Dow's every move, you may put it right on your PC.
Step 1
Install the free Nasdaq Market Ticker on your PC. This program downloads and installs quickly. It runs as a Java window on your computer screen that offers quotes and other information about stock-market activity. In addition to a list of stocks you choose the ticker to display, it also updates the major market indexes, including the Dow. Prices are automatically updated every three minutes or whenever you press the "Update" button. The updates continue as long as the ticker window is open on the computer. You can interact with the ticker by clicking on specific stocks or the Dow index. This will open your Web browser to a Web page with more information on that stock.
Step 2
Download the Nasdaq Toolbar if you want to monitor the Dow while working in a Web browser. Unlike the Market Ticker, which only shows you the Dow while the window is visible, this toolbar integrates with either Internet Explorer or Firefox so you can share your screen with other work. Because space is limited and display size is much smaller than the Market Ticker, you do not get as much information. You get a selection of only three symbols, one of which may be the Dow. Clicking on the toolbar will launch features from the Nasdaq website, including charts and financial news.
Step 3
Install the Pivotal Stock Ticker, a free program that lets you put the Dow and other stock symbols on your PC. The ticker streams along the top of your computer, or you may move it to another location on the screen. This option is effective if you want to view the Dow while you are working in other programs but you are not using a Web browser for integration with the Nasdaq toolbar. The thin ticker takes up minimal space, but you can quickly access stock charts or a chart of the Dow, which open in a separate window. Additionally, you can add your stock portfolio information to the program for updates to the overall value of your holdings.