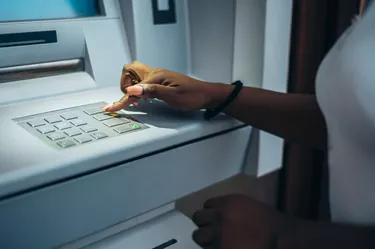 In today's day and age, if you're looking to open a new bank account, you're going to want to look for banks that operate nationwide in the United States. You may be looking for a bank with the best checking accounts available, or with the best free online banking; there are a number of options available that have operable branches in almost every state. Having easy access to your money is more important now more than ever – while you're shopping around for banks, figure out what sort of account options you're looking for, as well as where you might expect to travel in the United States for business or pleasure.
American Banks With Extensive Branches
According to Bankrate, even the three top national banks (Wells Fargo, JP Morgan Chase and Bank of America) don't actually have a branch in every state. However, if you're looking only at their numbers, these three are good top picks in terms of accessibility to actual brick-and-mortar bank branches. Among banks that are nationwide, these are the most prevalent.
Wells Fargo had nearly 6,000 branches in the United States at the end of 2017. JP Morgan Chase had over 5,200 branches in 33 states at the end of 2017 and it is often recommended as the best national bank for people who move around or plan to travel significantly.
Bank of America had over 4,500 branches at the end of 2017 and operates in 37 states. It's often recommended as the best bank for online banking, as well as for hands-on bank transactions.
Best Free Online Banking Services
As mobile services continue to grow, online banking is just as important as in-person banking. According to Business.com, mobile banking is even thought to be more secure and come with fewer risks thank in-person banking. While Wells Fargo, Chase and Bank of America all offer online banking options, there are a few other banks that operate online-only and that can be accessed anywhere.
Discover offers online banking that includes around 60,000 American ATMs that can all be accessed for free with a debit card for cash transactions. Alliant Credit Union offers an ATM network of over 80,000 machines. Ally Bank is an online option that boasts over 43,000 ATMs; Ally is known for its customer service.
A number of banks now offer perks, rewards and interest rates to attract customers due to the growth in the online marketplace and the desire to out-compete other banks. Some examples of perks are low or no monthly fees for accounts, free use of non-network ATMs and other benefits included with account opening. Rewards may include a small percentage of cash back on purchases made with a certain card or a set amount deposited into a new account by the bank as a bonus. Interest rates allow an individual to make a small income off of the money they have in their checking or savings accounts; these can be a very attractive part of a savings account. In general, online banks may offer higher interest rates, while physical branch banks often offer lower rates.
Chase is the bank likely most well-known for its perks; they offer significant sign-up bonuses and rewards for credit card transactions, although interest rates on savings accounts are low.
Ally has made a name for itself by offering interest rates on savings that are much higher than most physical banks and they have no monthly fees for having an account. Discover offers cashback on related credit card transactions, as well as a higher interest rate on certain kinds of savings accounts.