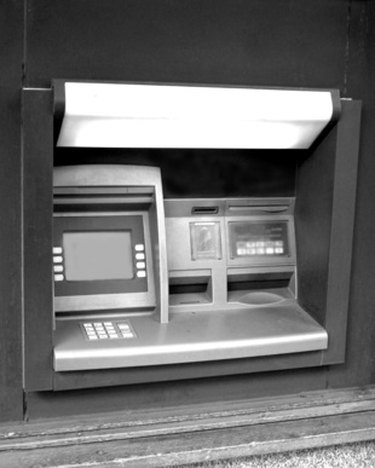 The United States has 7,836 FDIC member banks across the country that are covered by the federal insurance of up to $250,000 for each deposit. Many of these banks are regional or local banks and credit unions. Others are the national banking giants. Though few in number, these nationally recognized banks have a huge role in shaping the U.S. economy.
Bank of America
Recognized by the Federal Financial Institutions Examination Council (FFIEC) as the largest bank holding company in the United States as of June 30, 2010, Bank of America holds more than $2.3 trillion in assets. Bank of America self-reports more than 5,900 banking locations and 18,000 ATM locations nationally. Bank of America operates in all 50 states.
J.P. Morgan Chase
Though with only roughly 3,000 banking locations nationally, J.P. Morgan Chase has 15,000 ATM locations in the United States. As of June 2010, the New York City-based banking giant held $2.1 trillion in assets, ranking it second behind only Bank of America among the largest banking companies.
Citigroup
Made up of subsidiaries that include Citi, Citibank and CitiFinancial, Citigroup holds more than $2 trillion in assets. As a whole, Citigroup is found in all 50 states, with Citibank having more than 1,000 branches and 26,000 ATM locations.
Wachovia
Now part of parent company Wells Fargo Bank, Wachovia holds over 11,000 branch locations and 12,000 ATMs nationally. Additionally, Wachovia collectively with Wells Fargo, the two have America's largest banking presence with 6,600 locations. Wells Fargo is Number 4 in assets at $1.2 trillion as of June 2010.
U.S. Bancorp
U.S. Bank, a subsidiary of U.S. Bancorp, is one of the largest commercial banks with 3,025 branches and 5,312 ATMs. With growth in 2009, US Bank is now found in 24 states and is based out of Minneapolis.
PNC Bank
After acquiring National City Bank in late 2008, the Pittsburgh-based PNC Financial Services has become one of the biggest banking companies in America. Specifically, PNC Bank now has more than 2,400 branches in 15 states and 6,500 ATM locations.