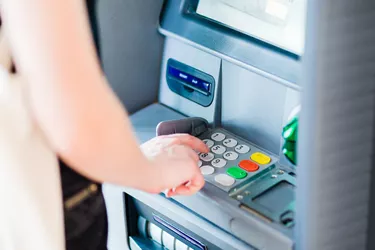 Most banks and credit unions offer different types of savings options. There are traditional savings accounts, high-yield savings accounts, cash management accounts, certificates of deposit and more. Another solution is to open a money market account (MMA). This service allows consumers to make withdrawals and other transactions while earning interest on their savings.
Tip
A money market account offers the perks of a savings account and the flexibility of checking accounts. With this service, you can write checks and make debit card payments and still earn interest on your savings.
How Money Market Accounts Work
Savings accounts are a preferred choice for millions of consumers. They charge minimal fees, pay interest and require a low minimum deposit. Plus, your savings are insured by a third-party agency, such as the Federal Deposit Insurance Corporation (FDIC) or the National Credit Union Administration (NCUA). The downside is that most banks may limit the number of monthly withdrawals or transfers. Checking accounts offer more flexibility but pay little or no interest.
With an MMA, you'll get the best of both worlds. This option allows you to earn interest on your savings and still be able to withdraw cash, write checks and make purchases. An MMA account is similar to a checking account. Better yet, it may offer higher interest than regular savings accounts. Consumers may open a money market account at a traditional bank or credit union, online or in-person, and link it to a debit card. However, a MMA may have limits on the number of transactions each month.
Fees Associated With MMAs
These financial products are subject to similar regulations as traditional savings accounts. Both of them are FDIC-insured, have high liquidity and generate interest. Depending on the bank or credit union, they may have monthly fees attached. The difference is that MMA accounts typically require a lower minimum deposit or balance and offer more flexibility than a savings account.
Until recently, the Federal Reserve's Regulation D limited the number of transfers or withdrawals from MMA and savings accounts to six per month. This regulation is no longer in effect, but you should still check your bank's terms and conditions. Some financial institutions may charge fees for excess withdrawals.
Best Money Market Account
Money market accounts can be a good choice for consumers with substantial savings. The more funds you have, the higher the interest earned. Withdrawal fees, interest rates and account minimums vary from one institution to another. Note that most banks require a higher minimum deposit for money market accounts compared to regular savings accounts. Ideally, choose a bank or credit union insured by the FDIC or NCUA.
CIT Bank, for example, offers money market accounts with a ​0.45​ percent annual percentage yield (APY). This figure indicates the rate of return on an investment over a one-year period. The bank is FDIC-insured and doesn't charge monthly service fees. To open an account, you must fill out an online form and make an initial deposit of ​$100​ or more. A potential drawback is that you'll have to pay additional fees if you exceed six withdrawals or transfers per month.
The Hiway Credit Union offers tiered-rate money market accounts with a minimum deposit of ​$500​. The APY varies between 0.01 and 0.40 percent, depending on your balance. If, say, you have ​$2,000​ to ​$24,000​ in your account, you will earn an APY of ​0.10 percent​. Account-holders with a balance of at least ​$100,000​ earn the highest interest rates.
Synchrony Bank, on the other hand, offers an APY of ​0.35 percent​ and doesn't require a minimum balance. Another option is the MMA checking account at Discover. The bank requires an initial deposit of ​$2,500​ and doesn't charge account fees. The APY varies between ​0.30 and 0.35 percent​, depending on how much money you have in your account. Other banks offer this service too, but they tend to pay lower interest rates.