If you're planning to switch banks in the near future or you're about to open an account for the very first time, consider a few things before making that first deposit. One is how many branches a bank has. Some banks are local, some regional and others national. Although no bank has a branch in every state, thanks to online banking, even if the bank you choose doesn't have a local branch, you can still forge a positive banking relationship.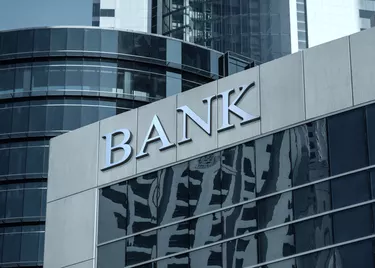 Local or National?
Whether to choose a local bank or a national bank depends on what you need from a financial institution. If you're a small business that wants to form a relationship with a bank, then a small local bank might be the best solution. Smaller banks tend to know customers on a personal level and can often make lending and financial decisions in-house that a branch of a larger bank might not be able to make. On the other hand, a large bank has more ATMs and usually offers more services, but the fees for those services are often significantly higher.
Banks With the Most Branches in the U.S.
There are three national banks with a large presence in the United States. Combined, these three banks, Wells Fargo, JP Morgan Chase and Bank of America, have the most branches in the U.S. Wells Fargo had 5,997 branches scattered throughout the United States at the end of 2017, while JPMorgan Chase wasn't too far behind with 5,288. Third place Bank of America had 4,584 branches. However, not even the top three national banks have branches in all 50 states.
Banking Online as an Option
Another option is to choose a bank with a robust online presence. If you choose a bank that allows you to do all your banking online and offers excellent customer service either through online chat or over the phone, you might be fine without a local branch.
Consider Where You Travel
If going to a local branch is an option you must have, then choose a bank that has a local branch as well as locations in other areas you might frequent. For example, if you live in West Virginia but travel to New York, although United Bank is the biggest bank in WV, you won't find branches in New York. On the other hand, Chase has locations in both areas.