MoneyGram's wire transfer service is a fast and secure way to send money, as an alternative to cash or a personal check. There's always the possibility — as with a check — that the money order might go missing or never be collected, so MoneyGram does have a refund process. You can submit your refund request with or without the money order's serial number, but it's faster and costs less if you have that number.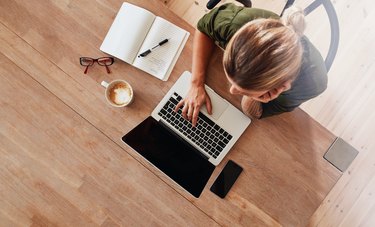 Money Order Claim Card Form
You can request a refund by completing the Money Order Claim Card form, if you know the money order's serial number. The form is available on the Service Forms page of the MoneyGram website. Complete the online form, and enter the money order serial number and purchase date on the top and bottom portions of the form. The form can't be saved while you're working on it, so be sure to have all of the necessary information at your fingertips before you start.
Mailing the Claim Card Form
Print the completed form and separate the top and bottom where indicated. Sign the bottom of the form and attach copies of the original money order stub and receipt. MoneyGram requires a $18 processing fee in the form of a money order or check. Mail the bottom half of the Claim Card form and the required enclosures to the address printed on the top portion of the form.
Refund or Photocopy
MoneyGram issues a refund if the money order has not been cashed. For cashed money orders, MoneyGram returns a copy of the money order. The purchaser should notify MoneyGram if the money order appears to have been altered since it was purchased. MoneyGram will not process unsigned claim forms. The $18 fee is deducted from the refund amount if not enclosed with the claim form. MoneyGram requires 30 to 65 days to process a refund request.
Money Order Number Search Form
Purchasers who do not have the money order serial number use the Money Order Number Search form, also found on the Service Forms page. MoneyGram charges a $40 nonrefundable fee for this tracing process. A refund is issued and a stop-payment initiated if the money has not been cashed. If the money order has been cashed, a photocopy is returned. MoneyGram will not process the request if the form is not completed exactly as instructed or if the fee is not enclosed. The tracing process takes about 90 days.