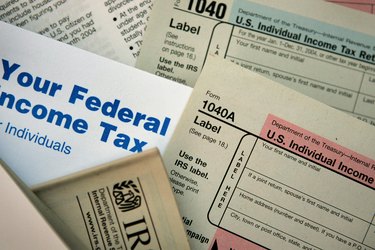 It is certainly faster to download your IRS tax forms via the Internet, but if you prefer, the Internal Revenue Service also gives you the option to have forms and publications delivered to you by mail.
How to Request IRS Forms by Mail
Step 1
Before contacting the Internal Revenue Service, make a list of the tax forms and publications you need to order. The IRS allows you to order up to 10 forms and tax publications combined to be sent to you by U.S. mail.
Also, for each form you order, the IRS will send you two copies. But they'll only mail one copy of each tax publication you request. The IRS will not mail you only the instructions for a tax form; however, they automatically include instructions with each form they send to you.
Step 2
To talk to an IRS agent about receiving tax forms and publications by mail, call the toll-free number at (800) 829-3676. Depending on time of year, you may have to wait on hold a long time. Just pick a time when you don't have anything else to do and sit tight.
To save time, find out the number of the tax publication or form you want to order. It will help the IRS agent to process your request faster. If you only have a description of the tax form, you'll have to wait while he does a search for you to find what you need.
Step 3
It could take up to 15 days for the IRS to deliver your order. In December and January, it may take even longer.
It's also good to remember that the cut-off date for current-year tax publications and forms is Dec. 1. For instance, if you order Publication 15 before Dec. 1, 2009, you will receive the 2008 edition. If you order it after Dec. 1, 2009, the IRS will send you the 2009 issue.
And even though the IRS has a limit of 10 forms and publications per order, its website says to call (800) 829-3676 to speak to an agent if you need a larger quantity. All tax forms and publications are free, and the government does not charge for shipping and handling.