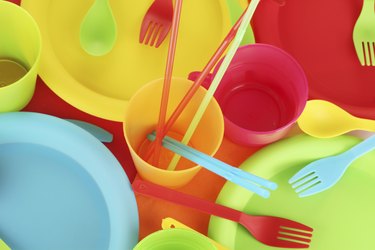 According to "Chemical & Engineering News," a leading trade journal for the chemical and plastics industries, the following companies (not necessarily in order) are regularly the largest producers in the global marketplace based on chemical sales:
BASF Dow Chemical LyondellBasell ExxonMobil SABIC DuPont Total Formosa Plastics Group Bayer
BASF
BASF, headquartered in Ludwigshafen, Germany, is the world leader in chemical sales. In 2012, the most recent figures available, BASF's overall sales were nearly $80 billion. With 150 plants around the world, plastics account for about 14 percent of the chemical giant's overall business.
Dow Chemical
Midland, Michigan-based Dow Chemical is the world's No. 2 in revenue with $56.7 billion in 2012. Dow's more than $14 billion in plastics revenue comes from polypropylene, polyethylene and resins used for a variety of applications. Dow Chemical also claims to be the leading supplier of polyethylene.
LyondellBasell
Headquartered in the Netherlands, LyondellBasell sales for 2013 were near $44 billion, about two-thirds of it from chemical products including resins, polypropelene and polystyrene that go into making plastic products like food packaging, automotive parts and flexible piping.
ExxonMobil
Number two in the Fortune 500 (behind Walmart), this Houston-based petrochemical mammoth's 2012 overall sales were about $450 billion, with around 9 percent coming from chemical sales. Its primary contributions to the plastics market are ethylene and propylene.
SABIC
Saudi Basic Industries Corporation, based in Riyadh, is the one of the world's largest producers of polyethylene and polypropylene. SABIC reported over $42 billion in sales for 2012. In 2007, the government-owned company bought GE Plastics for $11 billion.
DuPont
DuPont plastics products can be found in automotive, household, consumer, electronic products and more. The Wilmington, Delaware-based firm is the No. 3 chemical company in the U.S. after Dow and ExxonMobil.
Total S.A.
Total's subsidiary Total Petrochemicals' plastics sales numbers make up only a small portion of the French oil giant's roughly $250 billion in annual revenue.
Formosa Plastics Group
One of the largest producers of PVC in the world, the Taiwanese company's sales in 2012 were over $36 billion.
Bayer
Probably best known as a drug company, the German firm gets about a quarter of its annual sales from its MaterialScience division, which produces its plastics products.