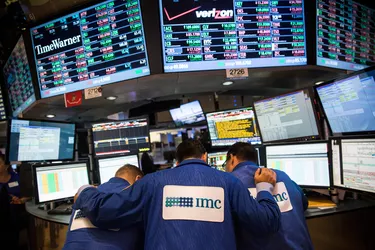 Consumer discretionary stocks are one of the 10 major stock market sectors listed in the Global Industry Classification Standard. Standard & Poor's is one of the developers of the GICS system and uses the classifications to divide the stocks in the S&P 500 index into market sectors. Consumer discretionary stocks make up about 10 percent of the total market value of the S&P 500 stocks.
Types of Companies
Consumer discretionary stocks are from companies that produce goods or services that the public can buy. Examples of products produced in this sector are cars, clothing and sports equipment. Discretionary services include restaurants, hotels and movies. The contrasting market sector to consumer discretionary is the consumer staples sector. Consumer staples are food, beverages, drugs and personal care products.
Consumer Discretionary Companies
The five largest company by stock stock market value in the consumer discretionary sector are McDonald's, Walt Disney, Ford Motor Company, Amazon.com and Comcast. These companies show the range of products and services provided by companies in the sector. The sector includes retailers such as Home Depot and Kohls, travel companies like Priceline.com and Carnival Corp., and manufacturers including Mattel and Harley-Davidson. Of the S&P 500 stocks, 79 are in the consumer discretionary sector.
Investment Potential
The consumer discretionary sector is the stock market segment most affected by economic cycles. Economic growth is consumer-driven, and discretionary stocks provide the goods or services that consumers buy when they feel good about their finances and don't buy when they are worried about their situation.
How to Invest in Consumer Discretionary Stocks
The Select Sector SPDR funds are exchange-traded funds that hold the exact S&P 500 stocks by sector in the same proportion as the stock market index. The Consumer Discretionary SPDR trades under the stock symbol XLY. ETF shares, such as XLY, can be purchased through a stock brokerage account.