The Federal Deposit Insurance Corp. requires banks to implement an identity verification policy, which addresses acceptable forms of ID when cashing checks. Credit unions have similar ID requirements regulated by their boards of directors. However, there are no standard identification requirements. Since each bank can create its own policy, the requirements vary. It's difficult to cash a check without identification, but it isn't impossible. The ID requirements are generally the same whether you are cashing a personal check or payroll check.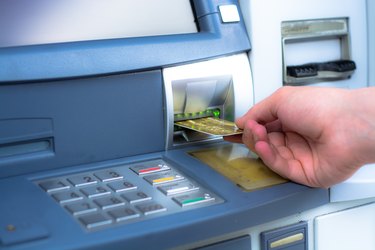 Acceptable Forms of Identification
Government-issued forms of ID are often accepted. The most common form of ID is a driver's license. If you don't have a driver's license, a state-issued ID card is usually acceptable. Military IDs and passports are also commonly accepted. Individual bank policies vary and some may not accept all forms of government-issued ID. For example, some banks may not accept out-of-state IDs or foreign licenses. Banks often require non-customers to provide two forms of identification. A secondary form of ID may include a credit card or utility bill.
Depositing and Withdrawing
If you don't have an acceptable form of ID, you can deposit the check into your account. The check will have to clear before you can access all the funds, which can take around three to five business days. Some banks, such as TD Bank, make the first $100 available immediately for withdraw. If you're depositing a cashier's check, funds are often available the next business day. Once the funds are available, you can withdraw the amount. You generally don't need identification to withdraw funds. Banks will often verify that your signature on the check matches the signature on file when making a withdrawal.
ATM Check Cashing
Banks allow you to deposit cash using the automated teller machines, but certain banks allow customers to cash them as well. Customers of Regions Bank who have a checking account or prepaid debit card can insert their checks into the ATM to be cashed. Up to $3,000 of the check can be received instantaneously, but any remaining amount must be deposited into the checking or prepaid account. You won't need to present ID, but you'll need your debit card.
Signing the Check Over
You can sign over your check to a trusted friend or family member to cash. You'll endorse the check by signing your name and writing "Pay to the order of" followed by the full name of your friend or family member. They'll endorse the check underneath. The person to whom you sign the check over will need to provide ID that matches the name you write on the check, but you won't need to show yours. It's up to the bank to decide whether to cash the check or deposit the funds and wait for the check to clear.