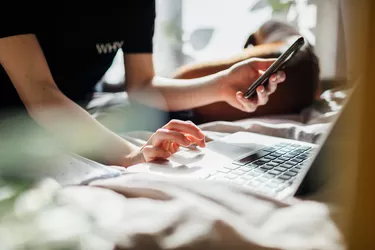 Most people use a debit card that's attached to their checking accounts. But sometimes you must cash a personal check or some other type of check. But if you don't have a valid ID, that can be a problem. So, are there ways to get around the photo ID requirement?
Ways to Cash a Check if You Don't Have ID
Check cashing can be difficult without a government-issued photo ID. But there might be a reason you need to cash a check and you don't have any forms of ID. One way is to use ATM check cashing.
If you have a government-issued check or cashier's check, you might be able to use ATM check cashing. You might have to already have funds available in your checking account or savings account before the ATM will dispense cash, but this is an option.
Using a check cashing app doesn't require a valid ID. There are several available.
If you have a PayPal account, you can use that too. Turn the check over and endorse the back of the check. Then take a picture of both sides of the check using the PayPal App. You choose when you want to receive your money. You can also choose where you want your money, like in a prepaid card or into your checking account.
Using the Ingo Money app, you can cash a check without a photo ID. When you cash a check with Ingo Money, you can divert the funds to a prepaid debit card, a bank account or your PayPal account within minutes.
Use your credit union or bank account mobile app. You don't need any forms of identification to use a mobile app. But you might have to wait a business day for your funds.
You could also sign your check over to a trusted family member or friend with a valid ID and let them cash it for you.
Places That Don't Require ID to Cash a Check
ATM check cashing doesn't require a photo ID or any valid ID. But you will be hard-pressed to find other places that will let you cash a check without acceptable forms of ID.
Many retailers have financial services. But retailers like grocery stores and Walmart all require government-issued ID for check cashing services.
Which Forms of Identification Could I Use to Cash a Check?
There are several acceptable forms of ID that can be used for check cashing purposes. Some of these include:
Driver's license
Passport
Military ID
Basically, any government-issued photo ID can be used to cash a check.
Common Check Cashing Questions
Besides personal checks, you might need to cash payroll checks, Social Security checks or other government checks. Where can you go, besides your bank or credit union, to cash these checks? There are check cashing places, but will they require a valid ID?
What if I Don't Have Any Photo ID?
If you don't have a photo ID or other acceptable forms of ID, you can use a check cashing app, your Paypal account, a bank or credit union mobile app and the Ingo Money app. These apps allow you to deposit checks to any account or put the money on a prepaid debit card.
If you're worried about cashing your check on payday, discuss direct deposit with your employer.
ATM check cashing is also an alternative.
Can You Cash a Check Made Out to Cash Without ID?
You can't cash a check made out to cash without a valid ID in a check cashing store or other retailers. A bank or credit union will also want various forms of identification.
But you can use a check cashing app or ATM check cashing.
What if I Only Have a Picture of My Driver's License?
A government-issued ID is usually required. A picture of a driver's license is not government-issued. There are some secondary IDs that may be acceptable forms of ID.
Some secondary IDs include a school photo ID, employment authorization photo ID, foreign driver's license photo ID or a birth certificate.