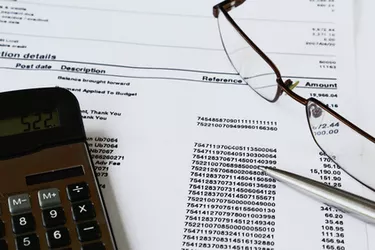 Opening a checking or savings account at a Florida bank works the same way as it does at other banks across the country. You'll need to furnish identification, contact information and a minimum deposit to open your Florida bank account. If you've just moved to the state, visit the Department of Highway Safety and Motor Vehicles to obtain a Florida driver's license. Most Florida banks require in-state proof of residency before opening an account for you.
Step 1
Select an account. Before you complete a checking or savings account application, review the menu of products your Florida bank offers. Most banks provide a wide variety of checking and savings accounts to fit different lifestyle options.
For example, students or young adults tend to open a "free checking account." A free account has no minimum balance or monthly fee; however, you must use all electronic services such as direct deposit, e-statements and debit cards to maintain the free-account status.
Another example is a "relationship pricing account." Earn discounts on bank products or services, or a higher interest rate, by opening and using other bank products such as online banking or direct deposit. Also popular is the "club account." Many Florida banks offer special accounts tailored to the needs of children, teens, young adults and seniors.
Step 2
Complete the checking or savings account application. Obtain an application from your bank or complete one online. Typically, you'll need to furnish your name, address, Social Security number and employer on your application. If you apply in person, bring your Florida driver's license, Social Security number and a credit card to the appointment.
Sign all disclosure forms and Truth in Savings paperwork to complete the application process.
Step 3
Provide the minimum deposit to fund your account. Most checking and savings accounts require a minimum deposit during account opening. Bring cash or a check to the appointment to fund your account.
Some banks will post funds and activate your account immediately; however, other banks need five to seven business days to activate your account. Ask your account representative for a time line and to supply you with starter checks and deposit slips.
Tip
Request a switch kit if you are changing banks. A switch kit is a package of information that contains the necessary forms to switch banks. If you just moved to Florida and would like to move accounts, ask your Florida banker for assistance with contacting your previous bank.
Before applying for a savings or checking account at a Florida bank, call the financial institution to inquire about additional identification or requirements to open the account.
Things You'll Need
Florida driver's license

Previous home address

Social Security number

Credit or debit card