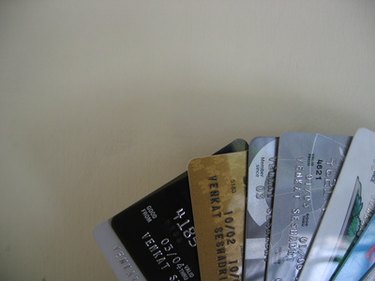 When you get customers to open a store credit card account, you not only increase your chances for sales, but you are also going to collect added revenues in fees and interest. In order to make your store credit card attractive to customers, you need to present it as a solution to their problems, a time-saving way of purchasing products from you and a safe alternative to using a major credit card. If you can sell the benefits of your card, then customers will be interested in signing up.
Important Information
If a customer shows an interest in signing up for one of your store credit cards, have information available to clearly outline the terms of the card. Customers will want to know about maximum interest rates, service fees and discounts they may get for using the card. Disclose everything as clearly as possible. Be upfront and establish an honest feeling about your credit card right away.
Bonus Points
Customers may want value with their credit cards, so develop a rewards plan that will motivate people to want and use the card. Customers could accumulate points toward gifts from a catalog, receive discounts off their purchases or be entered in a drawing for prize such as a weekend getaway package.
Networking
Develop a network of businesses in your area that are complimentary to yours and work out a way for your customers to get discounts in other businesses by showing your store credit card. Your customers get added value in your store credit card, the other businesses get a constant flow of referrals and you get referrals from the other businesses who are part of your network.
Online Account Management
The Internet is becoming an important part of the retail world, and if you want to entice people to sign up for your company credit card, then you need to allow them to manage their account online. You can also allow customers to shop on your website with their store credit card and offer Internet specials for customers who use your store credit card online such as free shipping or a discount.