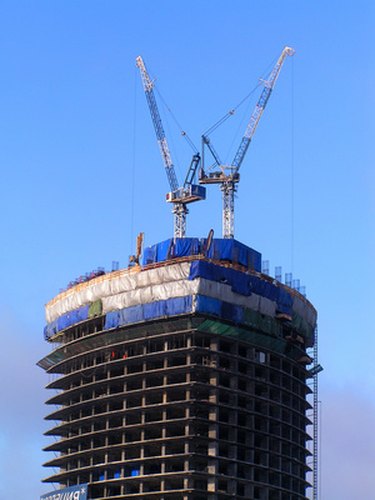 Having bad credit does not have to prevent borrowers from getting a construction loan. Many lenders give their clients the opportunity to get a construction loan. Using a loan of this nature can allow you to have a new house constructed, a vacation home built or even repair the home in which you are currently living. Normally, construction loans are characterized by a shorter length and borrowers often decide to transition into a more permanent type mortgage after the construction has taken place. The steps below will show how a person with less than stellar credit can obtain a construction loan.
Step 1
Find out your credit score. Go to a website on the Internet that can provide you with your personal credit score, or ask your mortgage broker for a copy of your credit report. Look over your credit report to determine if there are any errors. If you have any mistakes, contact the credit bureau directly to have them removed. Removing mistakes which appear on your report can boost your credit score.
Step 2
Obtain a secured loan. Understand that you will have to put up your current home as a means of security. If you do not pay your construction loan lender, that lender will have the chance to foreclose on your home, and you may end up losing your personal property. Be prepared to take on that risk if you are attempting to get a secured loan. Consider using any land that you own, if you do not have a house to use as security.
Step 3
Put down a substantial sum of money. Putting more money down will allow the lender to see that you are serious about the construction loan because you are putting your own money at risk. Realize that you can lose this money if you default on the construction loan at a later date. Remember the more money that you put down, the more seriously you will be taken by each potential lending institution.
Step 4
Perform your due diligence. Contact any local credit unions that are in your area. Speak directly to the head of the bank where your checking account is located. Use these relationships to prove your credibility to the lender. If you have a been loyal customer at the bank, kept a certain balance each month in your accounts and have had an account at their branch for a long time, that may go a long way toward proving you are a worthy loan candidate.