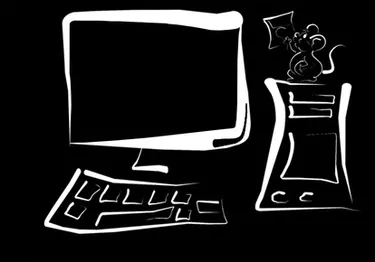 From earning spare change to a full-time working wage, many different ways of making money on the Internet exist. In some cases it takes a small investment to earn money, such as if you are setting up an online e-commerce store from scratch. There are also plenty of free methods, however, including using Blogger.com's free service to publish and earn from the Google AdSense advertising program.
User Auctions
Two popular auction sites include eBid and eBay, with eBay being the largest. Some people earn a living with online auctions, especially with eBay, by selling large product volumes and becoming PowerSellers. Anyone can sign up for eBay or another auction website and sell personal belongings or even resell items bought from garage sales or flea markets.
Affiliate Marketing
Affiliate marketers sign up for individual affiliate programs or marketplaces such as ClickBank, Commission Junction, or PayDotCom. The marketplace or program provides the affiliate with a special link, or hoplink, that he can advertise. Affiliate marketers earn a commission when buyers purchase the product through the tracking hoplink. Commissions vary based on the individual affiliate program but range from $10 to $100 and up in some cases.
Blogs
Blogs allow individuals to start writing about virtually any topic and earn money through a variety of programs. Pay-per-click programs, such as Google AdSense, give publishers the opportunity to host ads in exchange for receiving a small commission for each visitor that clicks on an ad. Bloggers also use traditional forms of advertising, such as banner advertising, to earn money.
Membership Websites
A membership website involves offering products and services to a specific niche group of people and charging a residual monthly membership fee. Several online software programs exist, such as Amember and MemberGate, to help site owners create and manage an entire membership site from the beginning. Membership fees depend on the particular service you're offering, but anywhere from a monthly $20 to $40 subscription is average.
E-Commerce Stores
Shopping cart software scripts, such as osCommerce, Volusion and Zen Cart, enable people to create e-commerce stores on a website from scratch. Online user programs, such as Etsy and CafePress, give individuals a complete online platform from which to sell. With an e-commerce store, you typically set your own prices for each product, which means that you can earn as much as you want.
Local Directories
Online directories act as Yellow Pages and phone books for people who want to find business listings and information about restaurants, services and entertainment. Some people create local directories for individual towns, cities, and regions to attract both local traffic and tourist activity. The directory owner earns money by charging for listings, displaying "featured" businesses and adding other paid features.
Freelancing
Freelancing on the Internet provides opportunities for individuals who already have a given talent, some experience or something else to offer. People freelance online with web and graphic-design skills. Writing and virtual assisting are two other large freelancing groups on the Internet. Freelancers offer services on their own site or use a site such as iFreelance, oDesk, or Guru to find projects and list services.
Revenue Sharing
A popular way to earn money on the Internet is through revenue-sharing websites. Users typically join revenue-sharing sites for free and create content that gets published on the site. When the site earns money from advertising programs, the profits are split with each of the members.
Social Lending
Social lending sites, including LendingClub and Prosper, allow individuals to join, deposit money and select loan applicants to whom they would like to loan money. The interest rate that the loan recipient pays becomes the amount that the loaner earns. This opportunity involves risk, but can be profitable if you have money to spare.
Online Advice
Counselors, psychics, spiritual advisors, professional doctors, computer technicians and other advisers can earn money by providing services to others through a site such as LivePerson.com or LiveAdvice.com. The provider generally sets a per-minute or per-chat-session rate for his advice, and collects this fee upfront or bills it to customers after the chat or help session is over.