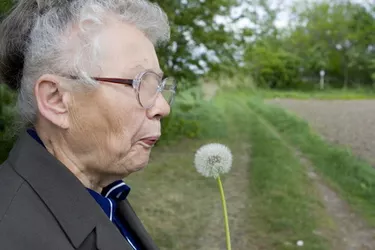 According to the U.S. Census Bureau, 23.5 percent of the homes in the United States have at least one senior citizen homeowner. Thanks to such initiatives as the OAA (Older Americans Act), senior homeowners are offered a number of federal, state and local grants to help them maintain and refinance their homes. Seniors can find a number of programs, grants and other funding opportunities by conducting a search through the government's main database of benefits at govbenefits.gov.
Federal Grants
In 1965, Congress approved the Older Americans Act (OAA). This law appropriated funding for federal and state grant programs to provide seniors with social services and financing. The OAA also established a new federal agency called the Administration on Aging (AoA), which administers senior grant programs and serves as a central information clearinghouse on aging and its related issues.
The Hope for Homeowners program administered by the Federal Housing Authority (FHA) is a federal program that helps seniors to refinance into a mortgage that they can afford. Senior homeowners are allowed to refinance their homes, and the new loan is guaranteed and backed by the federal government.
The OAA under Title III offers money for home modification and repairs to seniors. These grants help them maintain and stay in their homes longer. These funds are distributed by the Area Agency on Aging (AAA) located in each state.
Medicare and Medicaid grants normally cover only items for medical purposes, but some home modifications may qualify if ordered by a physician. Call (800) 633-4427 to find out if Medicare will cover a doctor-ordered home modification.
State Grants
Many states offer senior grants, which are subsidized by a combination of state and federal funds. Two excellent examples of state-run grant programs are the Low-Income Home Energy Assistance Program (LIHEAP) and the Weatherization Assistance Program (WAP), which are partially supported with grants from U.S. Department of Energy. LIHEAP grants assists low-income senior homeowners to pay for winter heating bills, while WAP provides funding to help seniors winterize their homes.
Local Grants
Cities and towns throughout the United States offer grant funding for community development projects. The Senior Homeowner Assistance Program (SHAP) in Cleveland, Ohio demonstrates the funding available to senior homeowners who need critical health, safety and maintenance repairs on their properties. To learn about community grants, contact your local country or city government.
Private Grants
The OAA and other federal agencies often give grant money to nonprofit organizations that provide services to seniors. Senior homeowners are assisted with home modifications or repairs at little or no cost to them. A national volunteer organization called Rebuilding Together, Inc. is an example of how federally funded grants indirectly are given to seniors in need.