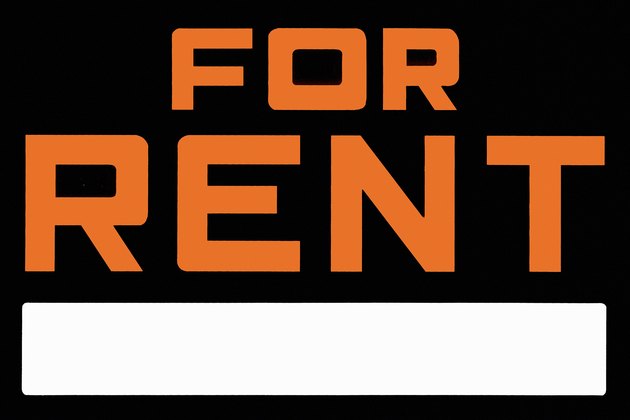 In the wake of the country's economic recession, more individuals and families are looking to rent, rather than buy. Renting a house or apartment gives tenants more freedom to move if they need to relocate for work or other reasons. This is where you come in. Whether you are trying to find a new tenant to take over your current lease or you're a homeowner looking to rent your place, there are several techniques you can use to help to smooth the process of getting a house, condo or apartment rented out—fast.
Step 1
Hit the Internet. The Internet is your most valuable source for finding your new renter. There are thousands of potential tenants looking for homes on websites that have free online classifieds like Craigslist.com, MyNewPlace.com and Apartments.com—so take advantage of them.
Step 2
Call a real estate agent. He or she will have the experience, knowledge and the resources that you don't—to more quickly rent out your home.
Step 3
Clean the house or apartment from top to bottom. It must look immaculate—even if you have to hire a cleaning company to do the job. No tenant wants to move into a dirty home that looks like it could potentially attract rodents and pests.
Step 4
Have an open house. An open house will allow potential tenants to view the property—minus the pressure that comes with meeting you one-on-one. Advertise the open house in the local classifieds. Have your Realtor advertise the open house on his company's website.
Step 5
Offer utilities that are included with rent. With home heating prices at an all time high, this will be a key selling point for your potential tenants who are looking to rent in cooler climate areas.
Step 6
Consider including electricity, gas, cable, high-speed Internet, trash removal, parking or a parking permit with the rent. Offering these amenities will make your unit stand out among the long list of other rentals—giving you a leg up on the competition.
Step 7
Spread the word to friends, family and co-workers that you have a rental available for move-in ASAP. They are likely to think of you when someone mentions that she needs a new place.
Step 8
Offer the first month's rent for free. People in the midst of moving are often cash strapped. By charging them only last the month's rent and a security deposit, they'll be more likely to move into your place over another, more expensive apartment.
Tip
Consider allowing pets. Pet-friendly apartments are scarce, especially in cities. If you allow cats or small dogs that don't bark, you will likely get double the response from potential tenants.
In cities or towns populated with college students, consider also renting bedrooms out separately. Have each tenant sign an individual lease.
Warning
Although you may be in a rush to rent out your place, be careful who you select as a tenant. Always ask for references, and run a credit check on potential tenants when possible.
Things You'll Need
Computer

Internet access

Cleaning supplies