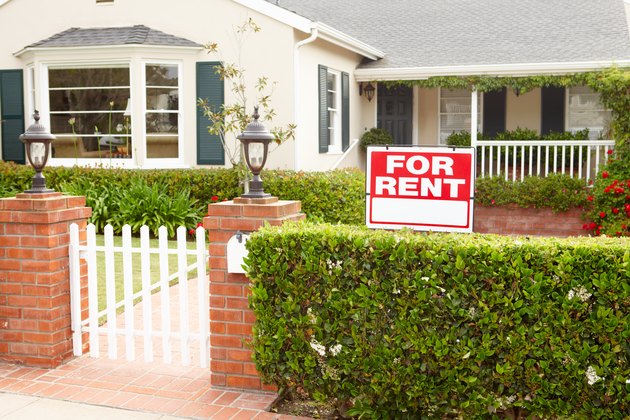 Things You'll Need
Internet

Local newspaper

Proof of work

Proof of funds
Warning
Avoid any scams. Do not send in any money orders or checks to a homeowner without first receiving the keys to the apartment.
Tip
Ask the homeowner his or her policy about returning deposits at the end of a lease. Also ask the policy for breaking the lease in the event that something unforeseen happens, which forces you to move out early. Do a little research about the homeowner. If possible, ask people in the neighborhood and/or other tenants about landlord. If you find out that the homeowner has pending lawsuits or many complaints, consider walking away.
Renting an apartment can sometimes be like a treasure hunt as you pick your way through all of the apartments for rent, looking for the qualities you have always wanted in a rental. Not only can you save money by eliminating brokers fees, but renting directly from an owner may provide you with that jewel-in-the-rough, and possibly at a lesser cost. Armed with the right information and tools, you might find that renting an apartment from an owner is not as difficult as you once thought.
Step 1
Create a checklist of your apartment wants and needs before you begin looking. Start with location, transportation, parking if you have a car, and any policy on pets or roommates if applicable. Be realistic about size and price of the apartment according to your budget and the location.
Step 2
Search. Start in your neighborhood of choice. Look in the local grocery stores, or any other popular stores for notices of apartment rentals. You can also look in the classified section of your local newspaper.
Do an online search. Search for by-owner ads on websites like Craigslist, For Rent By Owner (FRBO) and Rentals.com.
Step 3
Ask around. Talk to your friends, family and work colleagues, or anyone familiar with the neighborhood. Find out if they know anyone who is looking to rent an apartment out of their home. Many good rentals are never posted, as they are snatched up quickly by those people who are in the know.
Step 4
Write down all of the contact information, once you find a possible apartment, and call the homeowner immediately. Tell the owner what you saw or heard about the apartment, and express your interest. Obtain as much information as possible including the apartment location, size, and any other concerns you may have.
Try to determine the kind of renter the homeowner is seeking. Some homeowners may look for student renters, while others would prefer families or young professionals. Schedule a time to see the apartment.
Step 5
Visit the apartment. Try to arrive a little early so that you can scout out the area and see if it is indeed the type of area in which you want to live. Try not to judge the apartment based on outside appearances, but if the area is entirely too sketchy, you may want to cancel the visit.
Once you have made it inside the apartment, take your time and thoroughly inspect it. Ask questions, and answer any questions the homeowner may ask you. If the homeowner is pushy, or does not seem interested in you as a tenant, move on.
Step 6
Submit a formal application, or sit down with the landlord and present yourself as the best tenant for the apartment. You will want to have all of your paperwork in order, including a decent credit score and references, work payment stubs, etc. You will also want to make it clear that you intend to follow all rules and regulations.
Be sure to ask any final questions and be clear on the lease agreement that you are signing. If anything seems out of the ordinary, or if you are no longer interested in renting the apartment, tell the homeowner and move on.
Step 7
Do a final walk through of the apartment, if the homeowner chooses you as the tenant. Do not put down the deposit or pay any rent unless the apartment is in order and move-in condition.