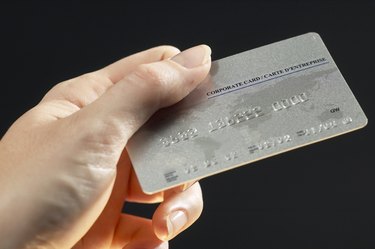 There are merchants who will allow you to use a credit card to send a money order. Many allow you to do the transaction via their website and you can also send a money order over the phone or by walking into a merchant's store. Money orders can be used to send funds over long distances quickly, deposit money directly into bank accounts, cashed for instant use or used to pay bills.
Select a Money Merchant
Not all merchants accept credit cards as a form of payment for money orders. The U.S. Postal Service, for example, only accepts cash, debit cards or traveler's checks. You can use Payko or Western Union to send money orders by credit card. You can send a money order online through Payko and Western Union. The latter also allows you to get money orders by phone, through their branches or at Western Union-affiliated shops like 7-Eleven and Kmart. You know that a retail location will process Western Union money orders when have a yellow and black Western Union Money Order sign posted.
Buying and Sending the Money Order
The next step in sending a money order is filling out the form. You must select where the money order is going. It can be sent to a bank, a retailer or a private address. It can also be sent to another money merchant's location to be picked up by the recipient. You then provide your Visa or MasterCard number, as well as the amount you want ordered. Depending on whom you buy the money order from, you may have to pay another fee for the postage. Western Union sends the money electronically to its destination and Payko does it through the postal system. If sent though Payko, you can have the money order delivered by first-class mail (received in three to five days) or regular mail for free (received in four to seven days). It also can be sent by priority mail for $6 (received in two to three days) or overnight for $15, as of January 2010.
Fees
Before the money order is sent, you must pay a fee for the transaction. The fee varies with the amount you send. With Payko, for example, you will be charged $2.99 plus 5.49 percent money orders between $0 to $25; $3.99 plus 2.49 percent for money orders between $25.01 to $100; and $4.99 plus 2.49 percent for money orders between $100.01 and $500, as of January 2010. Merchants may also impose a maximum money order limit to be bought by credit card. The maximum you can order by credit card with Payko, for example, is $500. Additionally, your credit card company may charge you a fee for the money order, as some see it as a cash advance.