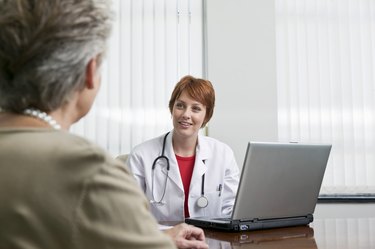 The Social Security Administration (SSA) obtains information regarding a person's disability during the application process as well as during periodic reviews conducted by the SSA. This information is used to decide whether the applicant for or current recipient of Supplemental Security Income (SSI) has impairments that meet the SSA's definition of "being disabled." This paperwork is typically sent directly to the medical provider to be completed and returned directly to the SSA. An information release must be completed by the applicant or recipient in order for these forms to be sent to the medical provider.
Step 1
Go to your local SSA office and state your needs. Different forms will likely need to be completed under different circumstances. For example, if a person has a periodic review after receiving SSI for an extended length of time, a 10-page-plus packet, including a mental status exam and questions regarding specific impairments and how these impairments interfere with the ability to work, is sent to the medical provider. If a person has recently applied for SSI benefits, a single-page request for medical records will be sent to the medical provider.
Step 2
Provide the SSA caseworker with all information regarding your medical provider who will be completing the form and/or submitting supporting medical records. Information that is necessary includes the exact name of the hospital or clinic, name(s) of the doctor(s) that will be receiving the forms, full mailing address, telephone number, exact dates of treatment and reasons for receiving the treatment from the medical provider(s).
Step 3
Contact your medical provider 10 to 14 days after the request is submitted in order to verify whether the documentation was received. Ask the medical provider if he is willing to give you a confirmation when the forms and other requests are completed and submitted to the SSA. Also, request a copy of any forms from the medical provider, especially functional assessments, that are completed by the medical provider and sent to the SSA.
Step 4
Verify that all documentation was received by the SSA. In the case of an SSI appeal case, going to your regional SSA office and asking to review your file may be necessary in order to ensure that the proper forms and documentation were actually received by the SSA.
Tip
It is highly recommended that if your SSI case is denied after the initial application, you consult with an attorney who specializes in Social Security disability cases or obtain support from an advocate who is knowledgeable about the Social Security appeals process. A disability attorney can help you organize your appeal case, help ensure that all necessary documentation regarding your disability is obtained and submitted, and advocate on your behalf during the hearings. Disability attorneys typically do not charge until the case is won. After the case is won, the disability attorney will collect a portion of the back payment (up to 25 percent) as the fee.
Things You'll Need
State or federally issued picture identification card

Social Security card

Specific information about the medical provider(s) that will be completing the forms and/or submitting medical records