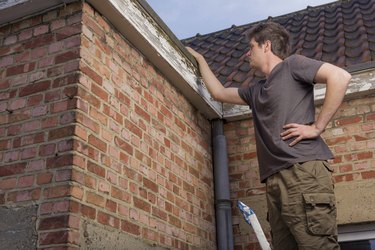 A home appraisal adds several hundred dollars to your closing costs on a purchase or refinance. The appraisal process generally involves an interior and exterior inspection of the property, an evaluation of comparable home prices in the area, and a formal report with a professional opinion of the home's value. The cost of a home appraisal depends on multiple factors, including region. The average price of a home appraisal was $438 in 2014, according to Bankrate's annual closing-costs survey.
Highest Average Appraisal Costs
At $620, Hawaii had the highest average cost for a home appraisal in 2014. Alaska had the second highest-priced appraisal fees, with an average of $530. Overall, the Aloha State and the Last Frontier had some of the highest costs of doing business, with both ranking among the top five most expensive states for real estate closing costs, according to Bankrate's survey.
Factors Affecting Fees
Independent appraisers, appraisal companies and third-party vendors that outsource appraisals, known as appraisal management companies, set their own fees. A mortgage lender that requires an appraisal for your home purchase, refinance or home equity loan transaction usually passes the appraisal fee onto you. Rarely does the lender waive an appraisal fee; however, it can pay the fee on your behalf, as can real estate agents or sellers. The size of the property, the scope of the appraisal and the neighborhood location also affect appraisal prices.
Loan Type May Matter
You may see above-average charges for an FHA or VA appraisal. Government-backed mortgages from the Federal Housing Administration and loans guaranteed by the Department of Veterans Affairs have more stringent appraisal inspection rules. For example, only appraisers approved to participate in the government programs may perform appraisals for FHA and VA loans. Inspections may also be more involved and take longer and, therefore, cost more than conventional loan appraisals. Both the FHA and VA require appraisers to charge reasonable and customary fees. However, the VA goes a step further by capping the maximum fee for VA appraisal reports by region and setting timelines for completion.
Different Cost for Various Appraisal Services
There are a variety of appraisal reports you can order, and their costs vary. For example, there are appraisals for multiple-unit properties, vacant land, rental units and condominiums. Automated appraisals can be completed without an inspection and are less expensive and faster to generate. Appraisers can also complete drive-by appraisals at a lower cost, which require an exterior analysis of the home and neighborhood, but not an interior review. The mortgage lender decides which appraisal is necessary for your loan and may collect the fees upfront or at closing. If you are ordering an appraisal for non-mortgage financing purposes, shop several appraisers to compare their fees.