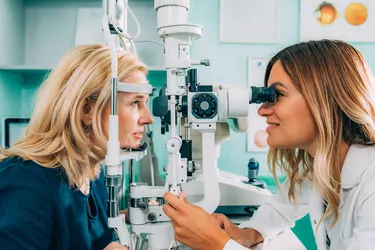 California's Medicaid health care program is Medi-Cal, which offers services for families with limited resources. State and federal taxes fund it. Those eligible can visit a medical optometrist or other types of eye specialists and locate them easily and quickly through an alphabetized list on the Medi-Cal website.
Types of Medi-Cal Vision Providers
Medi-Cal gives patients access to various vision care providers who can meet most of their eye care needs through their specialties. Patients can contact them directly to make an appointment. To find a specialist who suits their needs, they can visit the Medi-Cal Vision Care Provider Directory​ for an alphabetized list. To locate Medi-Cal Managed Care providers, patients should contact their plan directly. There is no guarantee that vision care providers will be available to accept new patients at the time of contact.
Medi-Cal offers visits with the following vision specialists:
Medical optometrists: They perform vision exams and prescribe glasses or contact lenses. They can also diagnose, treat and manage specific eye diseases and disorders and diagnose systemic conditions related to these.
Ophthalmologists: Doctors and surgeons specializing in the diagnosis, treatment and management of eye diseases and disorders. Like medical optometrists, they can also perform vision exams and prescribe glasses or contact lenses.
Opticians: They fill prescriptions for glasses and contact lenses.
Ocularists: They specialize in creating and fitting artificial eyes for people who have lost one or both due to illness or trauma.
Vision Services Provided Through Medi-Cal
Medi-Cal offers fee-for-service beneficiaries a routine eye exam and glasses one time every 24 months. During the appointment, the patient's eye health is checked and they are given an exam to discern what kind of prescription they need. Since January 1, 2020, coverage for glasses, including both the frame and lenses, for adult beneficiaries over 21 has been in effect. ​Contact lenses are also available for those who can't use glasses due to disease or another eye condition.
Medi-Cal also offers low vision testing. This is used for patients who have impaired vision that cannot be corrected by standard glasses or contact lenses. Low vision testing would also be performed on patients whose eyesight could not be corrected through medicine or surgery and left them unable to perform everyday activities. Finally, artificial eyes and related services are available to those who have lost one or more eyes to trauma or disease.
Who Is Eligible for Medi-Cal
Medi-Cal applicants must meet at least the following requirements to be eligible: they must be over 65, blind, disabled, under 21, pregnant or in immediate care or skilled nursing homes. People who have been on refugee status for a limited amount of time are also eligible, depending on how long they have been in the United States. The parents, caretakers or relatives of age-eligible children can use Med-Cal, as can those enrolled in CalFresh, CalWorks (AFDC), Refugee Assistance, SSI/SSP and California's Foster Care or Adoption Assistance Program. After applying through insurance through Covered California, eligibility for Medi-Cal is automatically determined. One person making less than ​$17,609 is eligible and a family of four making less than $36,156 is also eligible.
Anyone can apply for benefits despite their age, race, sex, religion, sexual orientation, disability, national origin, color or marital or veteran status. Many people who enroll have no premiums, co-payments or out-of-pocket costs. If there are costs, they are quite affordable and have a low monthly premium. For example, some monthly premiums have a family maximum of $39 a month. People on Medi-Cal generally get similar health benefits to those available through Covered California, but for lower costs.