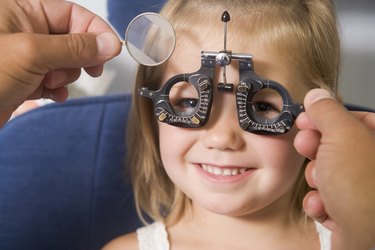 If you're a Medi-Cal member and need to see an optometrist, you can find participating eye doctors through the Medi-Cal website's vision provider search feature.
Visit the Medi-Cal Website
The "Find a Vision Provider" search feature on the Medi-Cal website lists all participating doctors by county. Choose your county to view the doctors in that area. If your county is not listed, pick one closest to yours.
Under each county, the doctors are listed by type of eye doctor--ocularist, optician, optometrist and ophthalmologist--and then alphabetically by city. The list includes the doctor's address and phone number.
Warning
Not all Medi-Cal participating doctors may have the availability to accept new patients.
Medi-Cal Vision Benefits
If you have full-scope Medi-Cal benefits, you have access to a routine eye exam every 24 months. The exam includes a test to see if you need eyeglasses, but only beneficiaries under the age of 21 and those who live in a nursing home receive coverage for eyeglasses, both lenses and frame, every 24 months. Testing for contact lenses might also be covered if you can't use eyeglasses because of an eye disease or other condition such as missing an ear.
Tip
If you have any questions about Medi-Cal vision coverage, you can email them at vision@dhcs.ca.gov or call 1-800-541-5555.