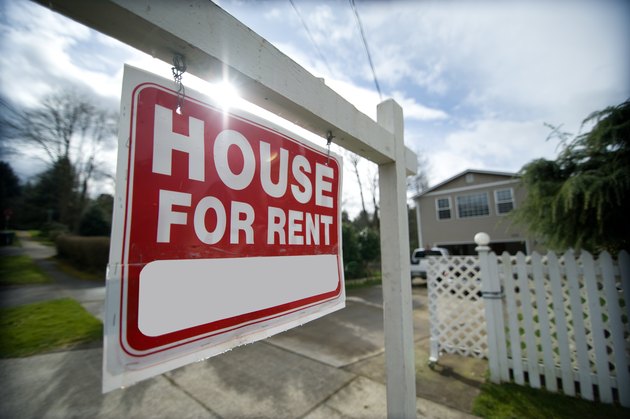 Things You'll Need
Computer with Internet access

Telephone

Yellow Pages

Rental history

Employment history

Social security number for credit checks

Deposit
Warning
Work only with banks or with licensed real estate agents. A scam known as 'rental skimming' occurs when someone who has no ownership rights to the property creates false advertisements and rental documents, usually renting the home at below market rates. These lease documents are not legal, and you will be evicted from the foreclosed property if an occupancy check by the owner determines that you are living there illegally.
Lenders have historically been reluctant to rent foreclosed homes. In a step toward foreclosure rental, Fannie Mae announced in January 2009 that it will allow qualified renters in Fannie Mae-owned properties to continue renting those homes after foreclosure.
Although foreclosure rental is not common, in a market where many people are losing their homes, lenders may have trouble selling foreclosed properties. If you're looking to rent, this could work to your advantage, as lenders may be willing to rent empty homes to improve their cash flow and keep the properties occupied until a buyer is found.
Sales Pitch
Step 1
Think like a lender. While properties benefit from occupation, lenders are reluctant to allow renters into foreclosed homes. They're concerned that renters may damage the home, creating more expenses than rental income. Or if renters fail to make payments, the lender will have to begin eviction proceedings, which can be costly.
Step 2
Sell yourself as a model renter. Whether on the phone or in person, conduct yourself as a responsible individual, worth trusting with a foreclosed property. Have your key financial information available, including current information about your job and income; employment history; property rental or ownership history; and a list of personal references.
Step 3
Think through the rental options you'd consider. For example, ponder whether you would be willing to rent on a month-to-month basis, make repairs to the home to improve its marketability, maintain the yard or grounds and keep the property in viewable condition. You may need to allow the lender to show the home to prospective buyers with reasonable notice.
Start Local, Then Go National
Step 1
Banks call foreclosed properties Real Estate Owned (REO). Identify local banks through the Yellow Pages and contact lending officers or REO managers to ask if they have foreclosed properties they'd be willing to rent.
Step 2
Contact real estate agents in your area, as banks, both local and national, may have contracted with them to manage and sell foreclosed properties. If the property market in your area is slow, real estate agents may be willing to persuade lenders to allow responsible parties to rent foreclosed homes.
Step 3
Lease Foreclosures is a new Internet service that works with banks to lease foreclosed homes. Renters can enter into traditional leases or can lease to own. The Web site requires registration but offers free searches by area.
Step 4
Investigate Web sites like Foreclosure.com that list properties for sale nationally. Most will require that you pay a fee for their service, but offer the first seven days as a free trial. You can search listings of foreclosed homes and find realtor details. Make contact with those realtors to discuss rental options.
Step 5
The Departments of Housing and Urban Development (HUD), Agriculture, and Veterans Affairs have homes listed for sale at www.homesales.gov. Identify properties that meet your needs and contact the local real estate agent named to ask about the possibility of renting the property.
Consider Homes in Preforeclosure
Step 1
Homes that have not yet completed the foreclosure process are listed in public records. Contact these homeowners about renting their properties as an alternative to foreclosure.
Step 2
Search public records at the county courthouse or use an online service to identify preforeclosure properties.
Step 3
Be tactful, and be prepared with a proposed monthly rental amount, a list of references and offer to be flexible on terms. Consider short-term leases and offer to keep the house in good condition for sales showings.