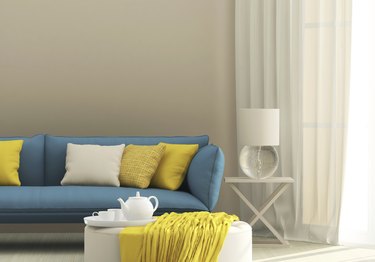 Efficiency apartments are often the first choice for renters on a budget, such as college students and young professionals. They are typically smaller and more affordable than studios or apartments with separate bedrooms. When you move into an efficiency, your living space is basically one open room with a separate bathroom.
Efficiency Size
You typically live in 500 square feet or less when you have an efficiency, so space is at a premium. Your kitchenette may not include a full-size refrigerator or an oven. There may be a small stove, or just a microwave, and a dorm-size refrigerator must hold all your fresh and cold foods. This type of housing is best for people who don't spend a lot of time at home.
Living in an Efficiency
The way you decorate your efficiency makes a big difference in creating a cozy space. Keep the walls and windows simple, with a single paint color and basic blinds or curtains. Set up your furniture to divide the space into small areas that can feel like separate rooms. Keep it free from clutter and don't be afraid to change things up frequently.