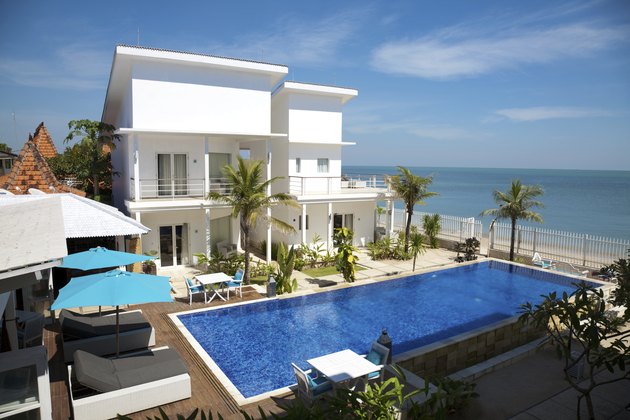 Timeshares offer the opportunity for travelers to obtain limited ownership or usage rights in vacation properties, with most programs providing the option to trade weeks at the primary location for other spots within their lodging system. However, personal finances and travel habits can change, which can result in either increasingly burdensome yearly payments or money spent on something that isn't being used. In these circumstances, timeshare owners can sell their properties on their own, through an agent, or by listing them for sale online.
Preparing to Sell
To execute a clean sale and receive a fair price for a timeshare, start by getting the necessary paperwork in order. Essential documents include the deed and any other forms that may be required by the resort to transfer the property to the new owners. Gather the information on the details of the timeshare agreement, including owners' rights, limitations or restrictions on selling, applicable vacation dates, and trading weeks with other resorts. To determine a fair selling price, call the resort to ask about previously executed timeshare sales, as well as any fees that may be charged when the property is sold. Be prepared for selling prices of comparable properties to be substantially less than what you paid for the property.
Selling the Property Yourself
The first thing to do if you're selling the property on your own is to see if the resort has a resale or buyback program for existing properties. These types of sales provide a fast transaction time and probably will return the most money of any other sales tactic. Hilton and Marriott both offer buyback and resale programs, so if your timeshare is on one of these properties, make this your first call. If this type of program isn't available, consider posting advertisements on Craigslist, which offers free listings in multiple geographic areas. Paying for advertising in trade magazines, such as "Timesharing Today," will also get your property in front of an audience interested in timeshare properties.
Selling Through an Agent
Selling a timeshare through an agent shifts all the work from your shoulders to someone who knows the ropes and can execute a sale, with a commission being paid on the back end. However, pick your agent with care. Unscrupulous agents will demand an upfront deposit of hundreds of dollars to "cover expenses," post a free ad, and then move on to their next target. Agents who legally sell timeshares are required to be licensed and must operate under the same rules as real estate brokers or agents. Before agreeing to work with an agent, check for a valid real estate license and never pay an upfront deposit.
Selling on eBay
Selling your timeshare on eBay has a number of advantages, including an easy sign up process, listing fees of just $70, and exposure to the 70 million people who regularly visit the site. A timeshare can be put up for sale with a reserve through eBay's auction system, which lasts 7 days on average. The disadvantage of the auction process is that if the property doesn't sell during the auction, it must be re-listed for another $70. As an alternative, timeshares can be put up for sale at a set price with a listing that lasts for 30 days. This tactic can get expensive after several re-listings, but the exposure to the heavy traffic on the eBay's site will give your property plenty of visibility.