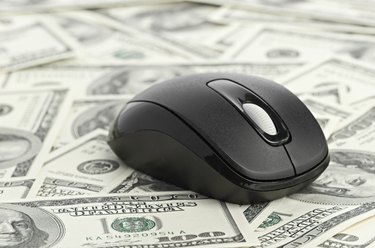 MoneyGram is a money transfer service that traces its roots back to the Travelers Express Company. Founded in 1940 in Minneapolis, Minnesota, by 2015 it was the second-largest money transfer organization in the world with $1.5 billion in annual revenues. It operates in more than 200 countries with more than 347,000 agent locations. Some agents also offer bill payment services, and can issue money orders and process checks.
Sending Money
To send money in person, go to MoneyGram.com to look up your nearest MoneyGram location. Bring what you want to transfer, the recipient's exact name and address, and personal identification like a driver's license or passport. The recipient's name must match that of the ID. You'll fill out a short Send Form and receive a reference number for the transaction. Give the reference number to your recipient. He'll be able to pick it up at a MoneyGram location in about 10 minutes.
Online Transfer
To send money online, you'll need to create an account at moneygram.com and pick a password and security image. The actual transaction starts with a click on the site's "Send Money" tab. You'll need the recipient's name, the country you're sending it to and the dollar amount. Funds sent via debit or credit cards are typically available within minutes, while transfers from bank accounts take about three days.
Receiving Funds
In almost all cases, you'll have to go to a MoneyGram location to pick up the transaction. The agent will need to see your personal identification and your reference number. Some countries also require proof of address, such as a utility bill or bank statement. You must complete a Receiver Form to get the money.
Bill Payment
Hundreds of companies accept MoneyGram as a form of bill payment. Since MoneyGram can move money to an account in minutes, this can be an option if the the money is needed quickly. You can do it online via a credit card or a prepaid MoneyGram card, or in person at a MoneyGram location. MoneyGram allows bill payments up to $2,500, though individual companies may have lower limits.
Limitations
MoneyGram generally allows transactions of up to $3,000 in most countries. Anything larger requires additional identification and procedures as the MoneyGram agents must comply with money-laundering regulations. The maximum amount per transaction is $10,000, with a daily maximum of $20,000.