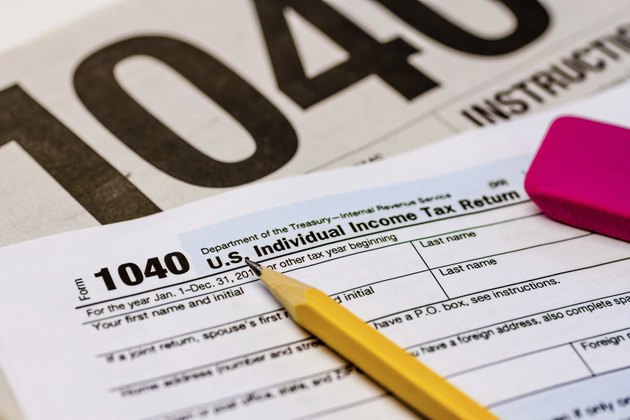 1040EZ is the simplest version of the Internal Revenue Service's 1040 tax form. You are eligible to file your income tax return with this version if your income is less than $100,000, you are single or married and filing jointly, and you don't claim any dependents. The straightforward mailing directions are included in the instructional booklet for the form.
Mailing 1040EZ
The address to which you mail your tax return depends on whether you are receiving a refund or sending a payment and your state of residence. For instance, taxpayers in Florida, Louisiana, Mississippi or Texas mail their 1040EZ to an IRS office in Austin, Texas. If they are sending a check or money order, they mail the return to a P.O. Box address in Charlotte, North Carolina. Check the last page of the 1040EZ instruction booklet for the address that applies to you.
Private Delivery Service
The IRS allows delivery of tax returns through private delivery service. Accepted private mail carriers include UPS and FedEx. The IRS lists the acceptable services from these companies online. If you are sending your 1040EZ through UPS, send with UPS Next Day Air, UPS Next Day Air Saver, UPS 2nd Day Air, UPS 2nd Day Air A.M., UPS Worldwide Express Plus or UPS Worldwide Express. For FedEx, use FedEx Priority Overnight, FedEx Standard Overnight, FedEx 2Day, FedEx International Priority or FedEx International First. The IRS receives mail sent through these companies at special addresses. Search for "Private delivery services" on the IRS website to locate a list of these addresses.
Electronically Filing Your 1040EZ
Taxpayers who file electronically receive their refunds faster than people who mail paper forms, especially when they sign up to receive their refund by direct deposit. The IRS provides free access to tax preparation software that allows you to prepare and automatically submit your tax return online. These programs are available through the IRS website. Type "Free file" into the search box to see currently available software. Elderly taxpayers can receive free tax services through Tax Counseling for the Elderly and Volunteer Income Tax Assistance Centers. Search for VITA or TCE on the IRS site to locate the nearest center or call 1-800-906-9887 or 1-888-227-7669, respectively.
Due Date
The deadline for filing your 1040EZ form or other tax return is April 15. If you file late, the IRS may charge a penalty fee or interest on any amount you owe. You might be automatically eligible for an extension if you are a member of the armed forces and involved in combat operations or in a contingency zone. If you need more time to prepare your tax return, file Form 4868 by April 15 to receive a six-month extension.