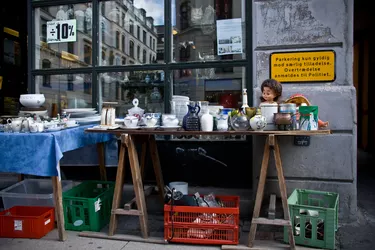 Pricing estate sale items appropriately requires a combination of research, judgment calls and an ability to separate personal feelings of sentimental value from true product valuation. In the case of highly specialized estate sale items, a consultation with a licensed professional appraiser may be a worthwhile investment.
Consult Auction Sites
Search online estate sales and popular online consumer auction sites to learn about the current market value of individual items. This will give you an idea of what people are currently willing to spend on the merchandise you're selling. Price your estate sale items slightly higher than your bottom-line price to give you room for negotiating.
Research Collector Guides
Consult collector's guides to help you set prices for unique or rare collectible items. This can be helpful when pricing specialty items such as coins, jewelry, antique furniture and china. Copy the information for high-end merchandise and have it on-site at the estate sale so customers recognize the value of what you're offering.
Hire an Appraiser
Consult the American Society of Appraisers for a licensed appraiser in your geographic area. These professionals can help you determine appropriate price points for merchandise and can be good sources for potential buyers interested in what you're selling. Appraisers may charge for their services by the item or collection. If you have specialty goods, such as an art collection, find an appraiser with a background in that area.
Be Realistic
It can be challenging to price items for an estate sale when you have a personal connection to what's being sold. This can lead you to over-price things that have sentimental value, but not a lot of monetary worth; likewise, it can be easy to under-value things, like an old lamp your grandmother always had in the living room or a collection of old books gathering dust. If in doubt, consult an estate sale company to help you make the hard decisions.
Price Everything
Mark every item with a sticker price tag. This helps prevent tag switching. Highly expensive pieces should be kept within viewing range of the cashier's station. If you're willing for customers to make an offer on an item, state that clearly as well, and have a bottom-line figure in mind to make for efficient haggling.
Be Open to Negotiation
Be willing to negotiate on price. One strategy is to charge full sticker price on the first day of an estate sale, gradually marking down prices through the final day of the sale. Another option is to bundle goods, giving a customer a better deal for purchasing multiple items.