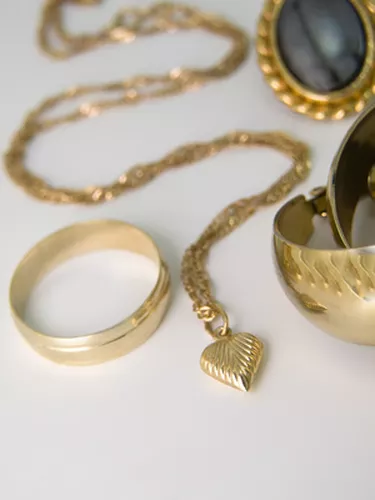 Selling gold can be a lucrative option. Depending on the price of gold, which fluctuates daily, a person can make hundreds, maybe even thousands of dollars, from the gold sold. This is especially true if you have scrap gold hanging around your house. Scrap gold, basically, is just gold that is not being utilized or enjoyed, specifically in your jewelry. Although you may want to bring your gold to the nearest pawn shop, you may not receive the best price possible for your gold. It is best if you follow a few steps before you sell your scrap gold so you can get the highest price for it.
Step 1
Look for the most current price of gold. This price fluctuates, but you should be able to assess a general trend across a week or month. Business magazines and newspapers like the Wall Street Journal should have a section showing the price of gold. Knowing the general price will help in any negotiation process with a gold retailer or buyer.
Step 2
Find out how many karats of gold the scrap piece is made of. Most jewelry will state right on it how many karats of gold there are. Knowing how many karats the gold is worth can help you assess its value and flaunt that quality to a gold buyer.
Step 3
Research an appraiser. An appraiser is a third party who will assess the gold's worth. An appraiser may be worth the price he charges to ascertain a complete price assessment of your scrap gold.
Step 4
Avoid pawn shops. Pawn shops might not always have quality or licensed jewelers who will assess the value of your scrap gold. Instead, take your scrap gold to a jewelry store that is backed by the Better Business Bureau.
Tip
Scrap gold is considered lower in price than the whole jewelry sold in its entirety. This is because scrap gold is based on the gold itself and not the craftsmanship that is involved to craft the gold's shape in the jewelry.
Warning
Always research the potential gold buyer. You will need to research the gold buyer and make sure there are no claims of dishonest business practices or buying gold from below market value.