An aluminum can is recyclable an infinite number of times, according to the Aluminum Association. The soda can you recycle today might be part of one you recycle in a few months, because a can you recycle is generally turned into a new aluminum can and placed on store shelves within 60 days. When looking for places to recycle your cans for cash, you have a number of options, but none involves curbside service.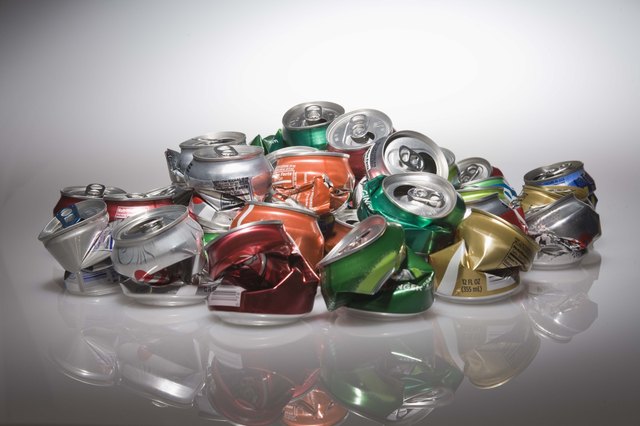 credit: Jupiterimages/Comstock/Getty Images
Step
Visit the Earth 911 website to search for a recycling center near you. Enter the word "aluminum" and your ZIP code into the search boxes on the site to find the nearest locations of recycling centers that accept aluminum soda cans. Call the centers to confirm they pay cash for the cans.
Step
Go to a reverse vending machine, if your state offers them, to return your cans and receive either cash or a redeemable receipt for the cans, which equals about 5 to 10 cents per can. Reverse vending machines are often located in supermarkets. Go to the Container Recycling Institute website and consult the Bottle Bill Resource Guide to find out if your state offers cash for soda can return.
Step
Call your local Chamber of Commerce and ask where you can recycle your cans for cash. The Chamber of Commerce houses information about resources in and around your community.
Step
Call your local sanitation department or the garbage company who picks up your trash from your home. Ask for suggestions for recycling your soda cans for cash.