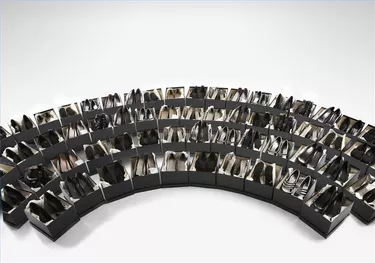 How to Recycle Shoe Boxes. Almost anything can be recycled, especially if it is made of paper, including shoe boxes. A part of recycling is reusing and reducing, so reusing boxes, as well as recycling benefits the environment. Here are some ideas anyone can implement to recycle shoe boxes.
Step 1
Recycle shoe boxes the traditional way you recycle paper by locating and contacting local recycling centers in the yellow pages. Coordinate with the recycling center when and how to bring the boxes to the center. Break down the boxes and lay them flat before taking them to the center.
Step 2
Organize a shoe store to recycle shoe boxes and volunteer to help the program by breaking down the boxes or delivering them to the recycling center. If you show the store how easy it is and how they can receive favorable publicity, then the store should agree to recycle their own boxes and maybe even collect shoe boxes from the community.
Step 3
Reuse the shoe boxes for storage containers for the shoes and other items. Cover the boxes with paint or decoupage them and use the boxes to store toiletries, kids' socks, craft items, photographs, keepsakes, greeting cards or small toys. Be sure to label the outside of the box so you know what is being stored.
Step 4
Reduce the number of shoe boxes you have by leaving the boxes at the shoe store and encouraging family and friends to do the same. This idea complements the recycling at the shoe store idea as well.
Step 5
Remake the shoe boxes into gift boxes or school projects using craft items and paints that water proof the boxes. These boxes save you money on gift boxes and wrapping paper.
Tip
Think of creative ways to reuse shoe boxes instead of buying new storage containers.