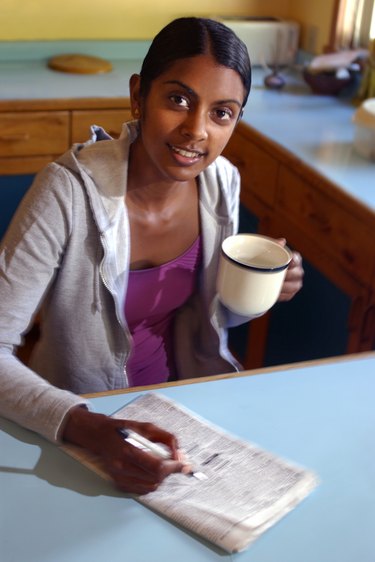 California pays unemployment benefits to workers who have lost their jobs through a layoff or reduction in workforce. In addition, benefits are available to qualified workers who have experienced a cut in hours. The application process can be completed online, over the phone or by mail, and involves a phone interview with both the claimant and his last employer.
Step 1
File a California unemployment application, which can be done online, over the phone, or through the mail. The online application is available at https://eApply4UI.edd.ca.gov, and takes the applicant through a series of screening questions. The applicant then submits the form directly to the Employment Development Department.
By phone, the applicant contacts EDD at 866-333-4606 and goes through an interview with an agency rep. Form DE 1101I, the paper application, can be filled out online and printed out, or printed out blank and completed by hand. The applicant then mails or faxes this form to the EDD.
Step 2
Interview by phone with an agency rep, who also evaluates the claim by contacting employers to verify the conditions of employment and the job loss. State law bars unemployment benefits to workers who have quit their jobs or were fired for cause. The EDD will go over the information in the application, which must include a complete work history over the last 18 months. If the agency denies the claim, it mails out a Notice of Determination explaining the decision to the claimant as well as the last employer.
Step 3
Receive the Notice of Unemployment Insurance Award, which will give the amount of benefits to be paid. The EDD will also send a Notice of Wages Used for Unemployment Insurance Claim to the last employer. This form explains how the agency calculated the benefits, based on your record of wages. Claimants as well as employers can appeal the decision as well as the amount of benefits, but the deadline for any corrections is 20 days from the date the form was mailed by the agency.
Tip
When a California worker loses his job, state law requires the employer to provide a copy of For Your Benefit: California's Programs for the Unemployed, a booklet that explains benefit programs and the application process.
California law requires all unemployment applicants to have worked within the last 18 months.
Warning
While unemployment is paid, file biweekly Continued Claim Forms. This documents your continuing efforts to find new employment. Filing is essential as long as you draw unemployment benefits. If you stop sending in the form, the EDD will designate the claim inactive, which means you would have to re-open the claim by going back to the online application process, and go through another approval process.