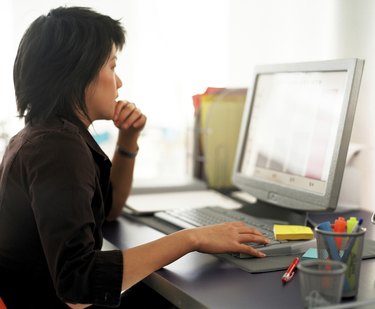 Filing taxes online is a method utilized for its convenience, ease of use and quickness. Turbo Tax has a website that makes filing taxes online a very practical way to file your income taxes. Filing your taxes online at Turbo Tax is free for many taxpayers. Whether self-employed, a business owner or employee, you can use the online tools at Turbo Tax.
Step 1
Assemble all necessary records and paperwork. Any papers that have to do with income, deductions, credits, retirement and loans may be needed. You will be able to save your tax form online prior to actually filing it. Do this if you encounter a mandatory entry that you did not know was needed.
Step 2
Go to Turbo Tax online and review the various software options. Choose the one for your particular situation. Click on the "Compare Online Products" link located on the top right to see a side-by-side comparison. Use the "Help Me Choose" link to receive assistance in your selection.
Step 3
Supply all of the necessary details. Answer the questions presented in the straightforward step-by-step Turbo Tax process, which will help you identify exactly what forms and information you need. The answers given will be used to create an income tax return. Fill in all of the details requested.
Step 4
Provide your payment or select your refund method. You can supply information from a bank account to make payment or receive a direct deposit refund. This is the fastest technique to use to get your refund. Select this method and supply your financial information when needed.
Step 5
Finish and file your income taxes online using Turbo Tax. Your return will be checked for any errors. Fix the errors and make any other modifications to your income tax return. You can e-file your taxes using Turbo Tax online. To sign your income tax return, you will be requested to supply a specific number -- usually related to your income -- from last year's tax return.
Step 6
Print a copy of your income tax return for your records.