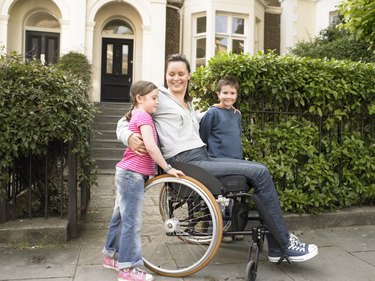 If you're 65 and older, or under 65 and permanently disabled and receiving Social Security Disability Insurance benefits, you qualify for Medicare coverage. Medicare Part B covers durable medical equipment, which includes wheelchairs. If your healthcare provider certifies a wheelchair is medically necessary for you to get around in your home, Medicare helps cover the cost. Before approving payment, you must meet certain criteria and assure Medicare that you can use the equipment safely.
Step 1
Schedule an appointment to see your doctor. He will examine you to determine if you need a wheelchair and can operate it on your own. If he decides you lack the strength to use a manual wheelchair and you do not have someone in the home to help, you may qualify for a power wheelchair. Medicare will require a statement from your doctor confirming you were seen for an office visit.
Step 2
Get your doctor or other healthcare provider to submit a written order, or Certificate of Medical Necessity, explaining you have a medical condition that requires you to use a wheelchair in your home. You will not qualify if you only need it to assist you outside your home, although if Medicare approves payment for a wheelchair, you may use it to go outside.
Step 3
Provide additional documentation, such as copies of doctor visit notes, test results or other information Medicare requires to prove medical need. Show evidence you have limited mobility because of a health condition that makes you unable to perform the activities of daily living even with the help of a cane or walker.
Step 4
Contact either traditional Medicare or your Medicare HMO or PPO health plan to find out which durable medical equipment suppliers you can use. Both the DME supplier and the doctor treating you for the medical condition that requires a wheelchair must be Medicare-approved providers.
Step 5
Meet your annual Medicare Part B deductible. You also will be responsible for paying 20 percent of the Medicare-approved amount. If you are covered by supplemental insurance, the plan may pay your 20 percent after your deductible has been satisfied.
Warning
If you rent or buy a wheelchair from a DME supplier that doesn't accept Medicare payments, the supplier can charge you more than the amount Medicare allows. The supplier may charge you the full cost up front. Once the supplier files a claim, Medicare will reimburse you its portion directly.
Things You'll Need
Doctor visit

Certificate of medical necessity