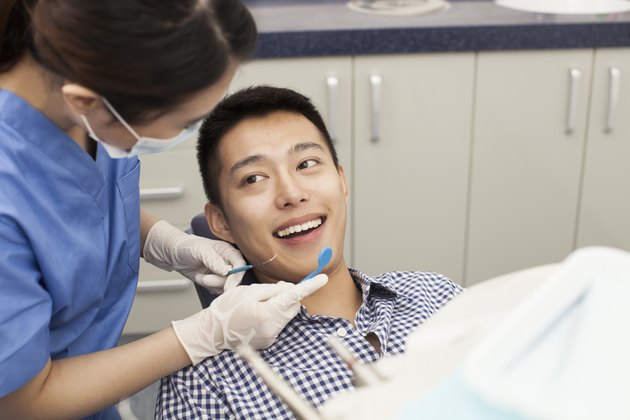 Dental loans can help you pay for unexpected costs due to an emergency or bridge the gap between the cost of a procedure and the amount your insurance company will pay. Dental loans do not require collateral, but you must meet the same credit and income guidelines as any other type of loan. There are lenders that specialize in dental loans as well as banks and credit unions that offer loans for medical services.
Step 1
Collect proof of your income such as pay stubs, bank statements and tax forms for self-employed applicants. Gather bills and statements for your current debts.
Step 2
Contact the bank at which you have your checking or savings account and ask if it offers health care loans. You will often receive a better interest rate and more favorable loan terms from a bank with which you have an established relationship. Contact a specialty lender such as DentalLoans.com if you do not have a bank account or if your bank does not offer these types of loans.
Step 3
Request information on how to apply. Many lenders have online applications and most will let you apply over the phone or print an application from the website and mail it in. A few small banks and credit unions may require an in-person application. However, the process is the same for any dental loan application.
Step 4
Provide your basic personal information. This includes your full name, address, previous addresses within the last two years, date of birth and Social Security number.
Step 5
Enter your income and current debts. Include credit cards, student loans, alimony and child support payments. Use the financial documents you compiled to ensure the figures you provide are accurate.
Step 6
Provide information about the dental office that is preforming the procedure. Include the name of the practice, the dentist's name, the address and the phone number.
Step 7
Enter a brief description of the procedure for which you are seeking a loan. You do not have to provide a reason.
Step 8
Submit the application along with your income verification documents. The lender will evaluate the application and paperwork you provided and run a credit check. Most lenders will contact you with a decision within five to seven business days. If you are approved the lender will explain how it will disburse the funds. If your application is denied, you may be able to reapply with a credit-worthy cosigner.