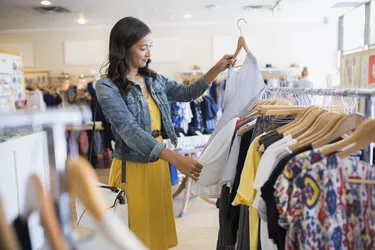 For those who regularly shop at Target, a store credit card, also known as a REDcard, can bring plenty of benefits. You'll get 5 percent off every purchase, both on the website and in stores, as well as cardholder-exclusive offers, such as early access to certain products and special promotions. To apply for a Target credit card or Target debit card online or by mail, go to target.com/redcard and either apply there or print out the application. In-store, go to the customer service desk to apply.
Apply for a Target.com REDcard
You can get a REDcard in two varieties: Target debit card or credit card. The debit card requires you to grant permission for the card issuer to immediately debit your bank account for any money you spend. It's a great way to get discounts without having to worry about paying a bill or racking up interest and late fees. The credit card version will result in a bill each month, plus 25.15 percent in interest if you don't pay off the full balance.
There are three major ways to apply for a REDcard: online, in-store or by mail. If you choose the online option, you'll submit your information directly. In-store, simply go to the customer service counter and ask for an application, at which point you'll be approved instantly if you qualify. You can also apply by mail, but that option will take a little longer.
Online or Mail Application
When you choose the Target.com REDcard option, you'll go to Target.com/REDcard and either apply for a credit or debit card. You'll need to provide your Social Security number, driver's license number and information about your income for the credit check. You'll then submit the information and wait for approval.
If you prefer to apply by mail, you can get the Target credit card application on the Target REDcard website. Scroll down until you see the link that reads Apply for Target Debit Card by Mail or Apply for Target Credit Card by Mail. This will take you to the application you can then complete and print out. Mail the completed form to the address on the application by the deadline stated above your signature.
Target REDcard Qualification Requirements
Before you complete a Target credit card application, it can help to do what you can to make sure you'll be approved. You'll need to be at least 18 years old and have a reasonably good FICO credit score, preferably 615 or above. You'll also need basic identity verification information, such as Social Security and driver's license numbers.
Since the Target debit card isn't relying on you to pay a bill, though, the requirements are a little less strict. You can apply as young as 16 years of age, for instance, although you will still need to provide your Social Security and driver's license numbers. You'll also have to connect the card to your checking account, which will be verified before you can use your card.
Benefits of a REDcard
In addition to the convenience that comes with using the card in-store and on Target.com, REDcards have extra benefits that may make it worth your while. They include:
Five percent off most purchases online and in-store
Five percent off Target-based Starbucks purchases
Five percent off gift cards and certain subscriptions
Early access to special promotions and certain products
Free two-day shipping
A 30-day extension on returns
Target Credit Card Application Approval
Whether you complete a Target credit card application online, in-store or by mail, Target will run a credit check and verify your salary and employment information. Your creditworthiness will determine your credit card approval. If you apply and don't hear anything, you can call 800-440-0680 to check on it. If you're denied for a credit card, keep in mind that you'll get the same benefits from the store's debit card.