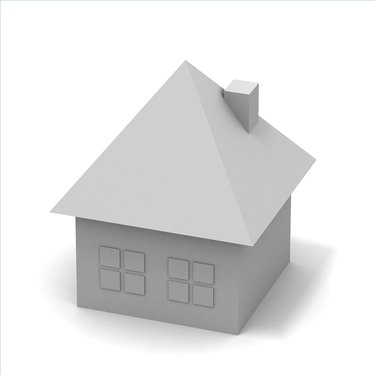 Renting out your existing home so you can buy another can be a smart financial move. Over the long term, homes have generally appreciated significantly, making them good investments. The equity in your current home will count as an asset on your loan application for a new home, and the rent for the first house (minus expenses, of course) will be added to your income. This can improve your chances of obtaining a mortgage loan.
Step 1
Prepare the house for marketing to renters. Make needed repairs, paint the interior, and give it a thorough cleaning. It's important that your house presents well and is in the best shape possible.
Step 2
Put a For Rent sign on the lawn and include your phone number. This is often the single best source of potential renters. Also advertise in local newspapers and classified circulars.
Step 3
Place free ads on Craigslist, and other large internet sites with local pages. Be sure to read and follow the sites' rules, particularly over posting, and top-posting. Also, put free ads on bulletin boards in stores, post offices and other public places. If possible, include a few photos of the house, inside and out.
Step 4
Schedule as many appointments as you can for the same day or evening to save time. Hold an open house on a Saturday and be sure to put up signs announcing it. Bring rental applications to give to interested renters.
Step 5
Screen your potential renters. Have them fill out your detailed rental application. Check their references and verify income. Obtain a credit report and background check. At a minimum, potential renters should have combined monthly take-home income of three to four times the monthly rent. Be sure to obtain a security deposit and first month's rent. You will need this in case the renter leaves or is evicted. Insist on a signed one-year lease, which you'll need to show your potential lender.
Step 6
Take advantage of a buyer's market to negotiate for a favorable price, terms and condition of the home. In a seller's market, search for a good deal but realize you'll have less ability to negotiate.
Step 7
Look at several homes in your target area and negotiate simultaneously with the two or three you like best. Of course, you can only have one purchase offer active at a time.
Step 8
Get financing through a local mortgage broker or by searching for good rates online. Have a copy of your signed leased and your sales contract when you meet with your mortgage loan agent. To present the best financial picture, emphasize your income, rental income, equity in the first home, good credit and solid payment history.
Step 9
Close on the loan for the new house, while continuing to collect rental payments for the home you've rented out. Stay on top of mortgage payments and maintenance for both places.
Tip
Save up several months' expenses in the bank before you buy the second house so you will be able to cover mortgage payments if there is extra time between renters.
Warning
Never exaggerate your income or hide debts in your loan application. It's important to present an accurate financial picture.