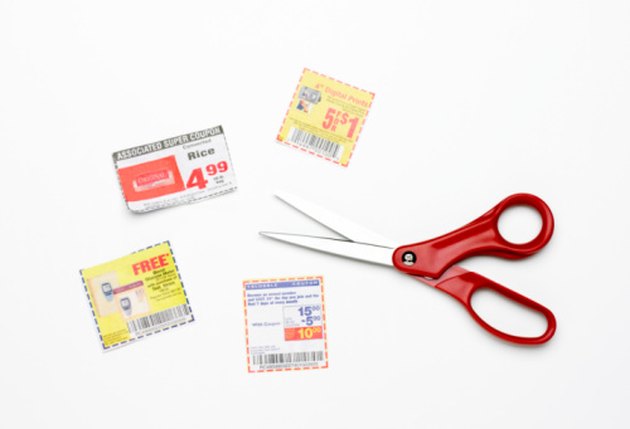 Watch your local grocery and drug store for a "Buy One Get One Free" (BOGO) sale. It can easily mean free food for you!
Step 1
Save coupons from your newspapers and magazines. Look for them in your local grocery store. You can even find printable coupons online. You don't need to cut them out. Just store them in large envelopes by date and source so that you can easily retrieve them when needed. Only throw them away if they have expired.
Step 2
Watch your sale flyers for a BOGO sale. This sale is your opportunity to save the most money.
Step 3
Once you find a good BOGO sale, find and cut out the coupons you will be using.
Step 4
Understanding coupon lingo and logic is critical. Coupons are considered a form of payment, similar to a check, because the store will get money back from the manufacturer for each coupon you give them. So you will buy the first item using your BOGO coupon as payment. The store will cover the price of the second one. So you get both products for free. This is how it ought to work, anyway.
Step 5
Go to the store with the BOGO sale and check their policy regarding coupons. Ask the cashier if they will accept the BOGO coupon as payment for their BOGO sale. If yes, you're golden. Get twice as many items as you have coupons, take them up to the register and proceed to pay only tax on your purchases.
If the cashier says no and you're feeling spunky, ask nicely to speak to the manager. Explain your question to him and your reasoning regarding payment. Sometimes the manager will side with you and correct the cashier. Sometimes the manager won't know how to answer. If he hesitates or admits he doesn't know, ask him nicely if he wouldn't call the corporate office to confirm their official position. You'd be surprised at how many managers do not know their corporate office's policies on coupons.
Step 6
If the store will not allow you to use the BOGO coupon as payment in order to get both items for free, you should at least be able to buy one and get two free. Here's how you do that. You buy one. You use the BOGO manufacturer's coupon as payment for the second one. The store covers the price of the last one. To make this an even better deal use a cents off coupon to get a discount off the first item that you buy. Just be sure to hand the cents off coupon to the cashier first BEFORE the BOGO coupon. Otherwise the register will not allow the use of the second coupon. Say, for example, Sure deodorant is on BOGO sale at $2.99. You have both a $1/1 and a BOGO coupon for Sure. So you take three deodorants up to the register. The cashier rings them up. Your total is $5.98 plus tax. You hand her the $1/1 coupon. Watch her scan it and then hand over the B1G1 coupon. The store covers the price of one. The manufacturer covers the price of the other. Your final price is $1.99 (plus tax) for three deodorants. That's not as smokin' as free, but with BOGO coupons you can still get some pretty good deals!
Tip
Free stuff can be given to shelters, food pantries, charities and deducted from your taxes at their full value. (Check with your tax advisor before doing this.) If you find the item is out of stock, by all means get a rain check! This will allow you to go back and get the same deal once they are in stock again.
Things You'll Need
BOGO coupons for a particular item

Cents off coupons for the same item (optional)
Warning
Always check to be sure your coupons are not expired. Read the fine print on the coupon. If it says "one per customer" or "one per order" then you can only use one per transaction.