It's possible to buy a repossessed property at a discount price if you investigate the home's details and plan for expenses before you make an offer. Foreclosures, also known as real estate owned properties or REOs, are homes that have been repossessed by banks, the government and other lending institutions after the homeowner defaults on the mortgage. REOs usually sell below market value for a faster sale or due to subpar property conditions. Homes are either sold at auction to the highest bidder or through a lender-specified process.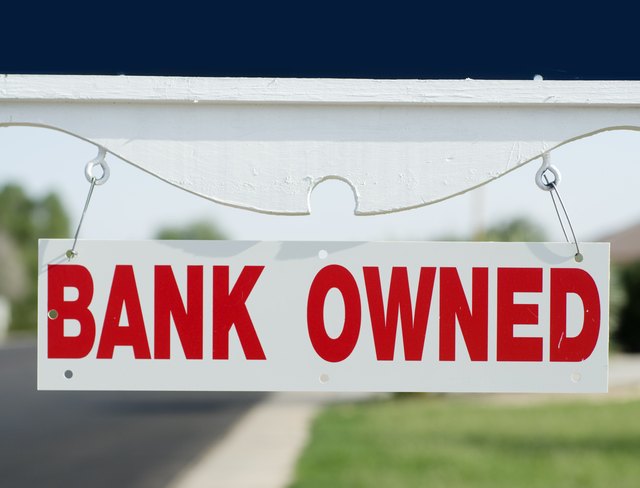 credit: paul hill/iStock/Getty Images
Step
Find a real estate agent who works directly with lenders that own repossessed homes or find them on your own. A Notice of Sale for upcoming foreclosures is published in the local newspaper; check the legal notices or foreclosure listings section for details of upcoming REO sales. Also, check the sheriff's office at the courthouse and private listings on the websites of local banks and credit unions. You may also find REOs at Fannie Mae "Homepath" website, the Freddie Mac "Homesteps" website and the Department of Housing and Urban Development's "HUD Homestore" website.
Step
Choose a lender and submit the necessary paperwork to get pre-approved for a mortgage loan. If your bid is successful at auction, you must close the sale within 30 days. You may not have time to work out the financing in the 30-day period between making a successful bid and closing -- pre-approval provides a head start.
Step
Read the sales conditions of the repossessed home. Auction sale conditions specify the amount of down payment -- typically 5 percent to 10 percent of the price -- contract deadlines, closing costs, property disclosures and other sale requirements. Read all contract clauses, addenda and disclosures the lender provides upfront. Also read all auction conditions, as these form part of the binding agreement between you and the lender that owns the REO.
Step
Research the offer process by asking the lender or the lender's agent how to submit an offer. Some lenders may post details of the process online. For auctions sales, register online or in person according to the auction company's rules. REO sales may entail a sealed bid or an offer on a standard real estate contract. You can only submit an offer for HUD-owned homes via a HUD-approved real estate broker.
Step
Research the fair market value of the repossessed home. Ask your agent to analyze recent sales prices of comparable properties, via a comparable market analysis, or CMA. Establish a competitive offer price based on current home values.
Step
Inspect the property. Repossessed properties are sold "as is" and the selling bank usually won't give you a credit or further discount for any defects you discover. Walk through the property with a building contractor or a home inspector and ask them to estimate the cost of any repairs. Deduct the cost of repairs from your offer price.
Step
Hire a title company to check the home for tax, homeowners' association or other liens. A title report summarizes the home's title-chain history and identifies expenses you may have to pay to obtain a clear title. The selling lender may pay off liens before closing or you may have to deal with them yourself -- check the sales conditions. Factor the extra cost of paying off liens, including attorney fees, into your offer price. (Ref 1; 3)
Step
Attend the auction in person or complete the paperwork required to make an offer for the property remotely. If your bid or offer is successful, follow the terms of the sales contract and adhere to all inspection, financing and closing deadlines.