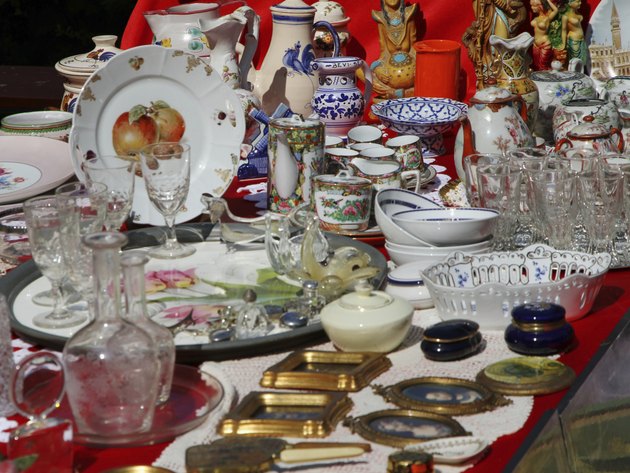 Flea markets and swap meets provide an opportunity for frugal-minded consumers to purchase new or secondhand products. Vendors at flea markets sell new and used goods including clothing, electronics, household items and furniture -- but smart vendors sell useful items with decent markup potential. Markup, sales skills, customer interaction and honesty make the difference between earning a few dollars and making big money at a flea market.
Step 1
Collect a listing of the flea markets where you plan to sell. You may need to look in another city or across a state line to find markets with heavy traffic. In addition, check to see if you need any business licenses or sales tax certificates, and secure all such credentials before starting your business.
Step 2
Visit each flea market to conduct product and vendor research. Take note of what other vendors are selling, the busiest stands and the most popular items. Avoid stiff competition. Don't sell the same thing other vendors offer, because the competition can reduce pricing and visits to your stand. Record customer demographics, such as age, income estimates or home ownership, so you can target their tastes. You can research demographics by getting out and speaking with customers at each flea market.
Step 3
Choose a theme for your stand. Sell products that support each other or are related. Don't sell a mishmash of items, such as calculators, shoes and insect repellent. Your items should connect to each other in an established and obvious theme. This way, you become the "go to" person for your particular product line and customers can purchase multiple related items from your stand.
Step 4
Select your inventory. Choose items that have upsell and cross-sell value. For example, if you sell digital computer mice, offer customized mouse pads to upsell your customers. You could include additional batteries or other related items to cross-sell. Select items that you can either demonstrate or that display well. Stay away from items that require trust, such as used electronics or items that come with an expired warranty. Start small with your inventory to test how well your items sell.
Step 5
Create an organized and interesting setup to attract customers. Try to use color and arrangement to catch attention. Make sure your setup is not confusing and flows from one product to another. For example, computer electronics could include digital mice, batteries, mousepads and laptop carrying cases. Arrange the items in a row that ultimately ends at your register.
Step 6
Demonstrate your products. Electronics, beauty products or household items require demonstration. A customer will trust you if you can prove the item will solve her problem. If you demonstrate how products work, like beauty products, establish a demonstration schedule, such as one demonstration every hour, and observe it. Always be ready to show a potential customer that any electronics items work when plugged in.
Step 7
Upsell and cross-sell your customers. Try to sell items that complement a customer's major purchase. For example, if a customer purchases a hat, upsell a matching scarf and gloves. If you sell a computer carrying case, upsell a wireless mouse and keyboard set, and mousepad as well.
Step 8
Accept debit and credit card payments. Consumers are more likely to spend more money using a credit card than cash. Contact your bank or your own accountant to open an account. Accept as many forms of payment as possible within your comfort zone.
Step 9
Learn to close the sale. Understand what your customers want and deliver. Help your customers see how your products will solve their problem. Demonstrate your products to ease any discomfort about how or if the product works. Deliver the product with a business card so your customer can contact you should she have questions. This builds a rapport and trust, which opens the door for additional communication and future purchases.
Warning
There's no guarantee that you'll make a quick fortune by following the advice here. There are just too many variables affecting the success of any business venture. However, if you're diligent and work hard to satisfy your customers with good merchandise and a good deal, you'll have a great time!