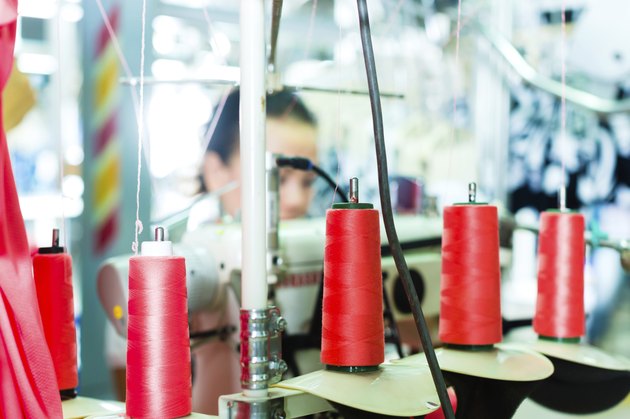 With its low wages, business-friendly investment laws and immense labor force, the People's Republic of China has become the world's workshop. Not only do US mega-retailers source most of their products from China, but small shops, wholesalers, online resellers and manufacturing concerns buy from Chinese factories, as well. Individuals interested in importing raw materials and consumer goods for their operations can draw on this resource by learning a few basic customs and procedures.
Going to the Sources
Attend a trade fair to meet directly with Chinese wholesalers and manufacturers. A China Sourcing Fair takes place annually in the United States, offering buyers a up-close look at goods, including electronics, household goods, tools, toys, clothing and shoes, currently on offer from Chinese factories. This fair requires only your business card, printed with a company name, for admittance. If you have the means and desire to travel, attend the China Import and Export fair in Guangzhou; it showcases an immense range of products from the entire spectrum of Chinese manufacturing. These fairs help you make contacts, discover trending businesses and facilitate your orders in bulk -- there are no retail-level transactions.
Online Investigations
Check out direct-ordering websites for Chinese goods. CNDirect.com, hktdc.com and alibaba.com are three of the most well-known sites. The last provides the most comprehensive searchable listings (with more than 17 million from mainland China as of 2014), which include a photograph, a minimum order amount, a supply capacity, a unit price and contact information for the manufacturer. Many of these sites also facilitate credit arrangements and provide feedback and discussion forums for buyers.
Setting Up Accounts
Set up a bulk shipping account with an outfit such as FedEx, UPS or DHL that handles international freight. There's no cost to set up an account; shippers occasionally offer discounts for a limited time for new customers. Shippers provide invoices, forms and shipping materials free of charge; they also provide a customer service number you can use for guidance. Their websites list rates, transit times, and any special restrictions or procedures needed for shipment from China. For larger shipments, request quotes from a freight broker or a website that provides comparative rates for cargo shipping. Open an account with a freight broker and a customs broker, whose job is to clear your products across the border and ensure the customs paperwork is in order.
Contact and Due Diligence
Contact your sources with a letter or email of introduction that includes a request for specifications and pricing on products you've selected. Provide a physical address, phone number, fax number, and email address; a website is optional but as a practical matter essential if you're offering products or services for sale. You may need to send a message via the company's website to get a response; the chances also improve with an introduction from an established customer. During this phase, check the company's rating with the China Better Business Bureau, which investigates complaints and resolves disputes.
Samples and Ordering
Before ordering any new item from China, request a sample and a specifications sheet. Manufacturers are generally happy to comply, at little or no charge, if they believe you have the intention and the means to become a regular customer. Your goal is to verify the specs, size, appearance and quality of the item before you make a big financial commitment. The manufacturer responds with lead time for the shipment -- longer if they don't have it available in stock -- and any charges or discounts. Before paying for any product in bulk, request a proforma invoice, which shows the "ship to" address, the item description, quantity, price, manufacturing schedule if any, and tentative shipping date. Request shipping charges and information on insurance--if the manufacturer refuses to insure the shipment, you have to bear that cost.